TOKYO, Nov 16, 2009 (AFP) - Bank of Japan governor Masaaki Shirakawa warned Monday that a prolonged period of highly stimulative monetary policy in the United States could pose a risk to the world's largest economy.
"If the continuation of low interest rates leads to a substantial rise in long-term interest rates by raising inflation expectations or by generating expectations for a weak dollar, this may give rise to another problem."
That is "the fiscal burden increases and in turn the need for adjustments in the government's balance sheet arises," he told a financial forum.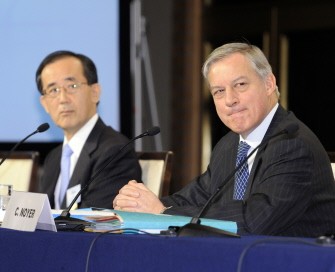 Bank of France Governor Christian Noyer (R) and his Japanese counterpart Masaaki Shirakawa attend the Paris Europlace financial forum at a Tokyo hotel on November 16, 2009 (AFP photo)
The US central bank has kept its benchmark lending rate at a range of zero to 0.25 percent since last December in an attempt to tackle the worst economic downturn in decades.
Governments and central banks around the world face the tricky task of deciding when to withdraw emergency measures aimed at shoring up their economies in the face of a brutal global slump.
The BoJ's own key lending rate stands at 0.1 percent and the European Central Bank's benchmark rate is at 1.0 percent. A handful of countries have hiked rates recently, including Australia, Israel and Norway.
Shirakawa said that assessing corporate balance sheet adjustments in the United States and Europe was "a key issue in determining the outlook for the global economy."
"Given the growing inter-connectedness between economies around the world, what is important for the global economy is that advanced and emerging economies grow in a sustained and well-balanced manner," he added.
Bank of France governor Christian Noyer, an ECB council member, told the same forum the risk of a deflationary spiral "has been considerably reduced."
"Indeed, even when instant inflation turned negative in many countries for several months in a row, long-term inflation expectations remained remarkably stable," he added.