WASHINGTON, March 5, 2009 (AFP) - President Barack Obama vowed Thursday to forge a new US healthcare system this year by confounding entrenched interests which crushed the bold hopes for reform of several of his predecessors.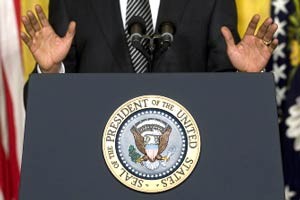 US President Barack Obama delivers remarks at the White House Forum on Health Reform in Washington, DC, March 5 (Photo: AFP)
"This time is different," Obama said, as he opened a White House 'summit' on healthcare with doctors, nurses, lawmakers and business groups to launch the politically perilous process of driving a reform bill through Congress.
"This time, there is no debate about whether all Americans should have quality, affordable health care -- the only question is, how?"
"Our goal will be to enact comprehensive health care reform by the end of this year. That is our commitment, that is our goal."
Obama's healthcare drive was just the latest bold initiative of his young presidency, as he seeks to reverse former Bush administration policies and targets some of the most challenging problems in US politics.
More than half of all Americans are covered by health insurance provided by employers, but it is not compulsory and nearly 46 million others have no coverage at all.
Providing insurance is a millstone for businesses and carves a hole in the budget of many Americans, so Obama said it was a moral and economic imperative to push reform at a time of deep economic crisis.
"The biggest threat to our nation's balance sheet is the skyrocketing cost of healthcare," said the president, who also warned critics who seek to thwart his efforts.
"Those who seek to block any reform at any cost will not prevail this time around," said Obama in an apparent reference to the defeat of healthcare reform which crippled the Clinton administration.
Some opposition Republicans are expected to try again try to derail reform, seeking to wound the new president. US healthcare reform critics often deride reforms as meant to foster "socialized medicine."
"Taxpayers cannot afford to subsidize a bureaucratic takeover of health care with a massive tax hike on all Americans, particularly in these troubled economic times," said John Boehner, the top Republican in the House of Representatives.
"We believe families and their physicians should make decisions about what treatments are 'appropriate,' not government bureaucrats."
Obama presented the healthcare crisis as a result of decades of inaction and political stalemate.
"The problems we face today are a direct consequence of actions we failed to take yesterday.
"We have talked and we have tinkered, we have tried and fallen short, we have stalled time and again we have failed to act because of Washington politics, or industry lobbying."
The White House event comes a week after Obama asked Congress in his budget for 634 billion dollars for a "down payment" to fund healthcare reform over the next 10 years.
Thursday's event was similar to a fiscal responsibility "summit" Obama held last week, as he attempted to reach across political divides to trim the gaping US budget deficit.
Indiana ambulance driver Travis Ulerick was invited to the forum to introduce Obama.
"People in my town can't afford health care costs, they can't afford doctors' visits, and they can't afford ambulance rides," he said.
Under the White House healthcare plan, which will likely be amended by lawmakers in final legislation, Americans who have health insurance and want to keep it can do so, though the administration says costs will lower.
A new range of "affordable" health insurance options is envisaged under the Obama plan, which will make insurance firms cover pre-existing conditions and include tax credits to help small businesses provide healthcare to workers.
The initiative would seek to lower the cost of prescription drugs, partly through relaxing rules on the import of medicines from other developed nations, and stop pharmaceutical giants blocking production of generic treatments.
Obama opened his drive for healthcare reform on Monday by nominating Kansas Governor Kathleen Sebelius as his new health secretary, to replace former senator Tom Daschle who withdrew over a storm about his unpaid taxes.