Bolivian President Evo Morales on Saturday hinted that parts of the country's energy and rail sectors, currently backed by foreign capital, could soon be nationalized.
"It is true we have not fulfilled all our promises, we still have railways and we still have energy," Morales said in reference to vows of nationalizing the industries.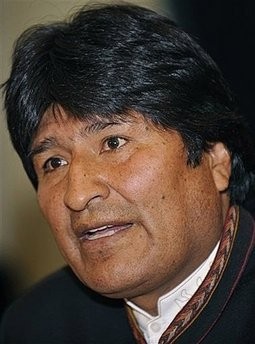 Bolivian President Evo Morales, seen here on July 1, 2009,
The leftist leader indicated the government did not have enough money to allow nationalization to take place immediately, but hinted a move in that direction might be in the offing.
"There will be surprises... I don't want to announce anything yet, I am not sleeping, sometimes it is just about counting the money."
Bolivia's electricity sector, thought to be the target of Morales' comments, is dominated by Spanish firms Iberdrola and Red Electrica, French firm GDF Suez and Britain's Rurelec.
Since taking office in 2006, Morales has nationalized firms in the hydrocarbon, mining and telecommunication sectors.