LA PAZ (AFP) – Bolivian President Evo Morales rescinded a government decree that significantly raised fuel prices and sparked civil unrest.
Vice President Alvaro Garcia issued the decree on Sunday removing subsidies that keep fuel prices artificially low but cost the Bolivian government an estimated 380 million dollars per year.
As a result fuel prices went up as high as 83 percent in the sharpest fuel price increases since 1991.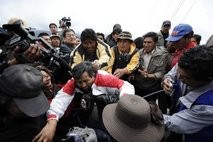 AFP – A pro-government worker is assulted by strikers in El Alto, Bolivia, on December 29, 2010
"Answering to the wishes of the people, we have decided to rescind Decree number 748 and other measures that accompanied it," Morales told reporters at the presidential palace.
"These decisions will not take effect," the president added. "There is no justification for raising transportation fares or food prices right now. Nor do we want to fuel speculation."
Earlier in the day, Morales decided to cancel his trip to Brazil for the inauguration of that country's new president, a government official told AFP.
He was presiding over back-to-back government meetings aimed at crafting strategy for quelling civil unrest in La Paz, Cochabamba and other major Bolivian cities sparked by the decision to remove price controls.