A bomb ripped through a Pakistan police vehicle, killing two policemen and wounding five people on the outskirts of the northwestern city of Peshawar early Friday, officials said.
"It was a remote-controlled bomb packed with steel pellets, which was planted on the roadside," senior police official Mohammad Karim Khan said.
Doctor Attaullah Arif at the city's main Lady Reading Hospital said two policemen were killed and five people wounded, including three police.
The left side of the patrol vehicle, which can seat around six policemen in the back of the cabin, was badly damaged with four or five berets discarded next to splashes of blood, said an AFP correspondent.
The attack came around 14 hours after a suicide bomber struck a court in Peshawar killing 19 people, the sixth attack on the northwestern city in 11 days as Pakistan presses a major offensive against the Taliban.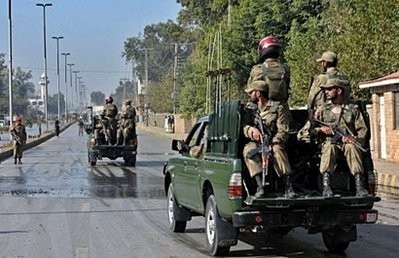 Pakistani army troops patrol at the site following a suicide bomb blast in Peshawar.
The sprawling city of 2.5 million people lies on the edge of Pakistan's lawless tribal belt, where US officials say Al-Qaeda militants are plotting against the West.
Attacks in the northwest have soared as 30,000 Pakistani troops press into Taliban strongholds in the hostile terrain near the border with Afghanistan, where 100,000 NATO and US troops are fighting a deadly insurgency.