Several bombs exploded in Sri Lanka's ethnic Tamil heartland of Jaffna ahead of Tuesday's crucial presidential vote, an independent election monitoring group told AFP.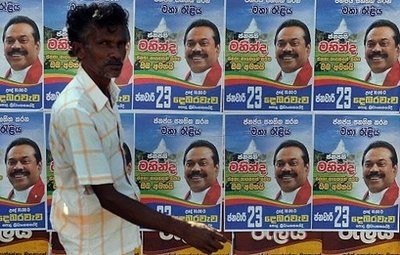 A Sri Lankan man walks past election posters of President Mahinda Rajapakse along the streets of Rajapakse's home town Tangalla, about 195 kms from the capital Colombo. (AFP Photo)
At least two bombs went off outside the home of a ruling party activist in the Jaffna peninsula, but there were no reports of casualties, the Centre for Monitoring Election Violence (CMEV) said.
"We have a complaint that two bombs were thrown at the home of Subramaniam Sharma, an organiser for the (ruling) Sri Lanka Freedom Party early this morning," spokesman D. M. Dissanayake said.
He said Sharma's front yard was damaged, but there were no casualties.
It was not clear who carried out the attack, he added.
Residents in the northern peninsula counted up to four pre-dawn blasts, but the source of the other explosions was unclear, said Sunil Jayasekara, a CMEV monitor in Jaffna, 400 kilometres (250 miles) north of Colombo.
"We are not sure from where the blasts originated or who was responsible," Jayasekara said by telephone, adding that it shattered the relative calm in the region ahead of the vote in which the minority Tamils could emerge kingmakers.
The 12.5 percent Tamil minority is seen as crucial in the event that the majority Sinhalese community is divided down the middle between incumbent Mahinda Rajapakse and the main opposition candidate Sarath Fonseka.
Government forces wrested control over Jaffna in December 1995 from Tamil Tiger rebels who were completely crushed in May last year.
The military lifted a night curfew in Jaffna ahead of Tuesday's presidential election, but the military maintains a large presence in the former stronghold of the Tamil separatists.
There was no immediate comment from the authorities following Tuesday's bomb attack which came after opposition charges that the government was trying to use violence and rig the vote, a charge vehemently denied by the ruling party.