The death toll has risen to 80 after a massive bomb attack that ripped through a crowded Pakistani market on Wednesday, a hospital and local government official said.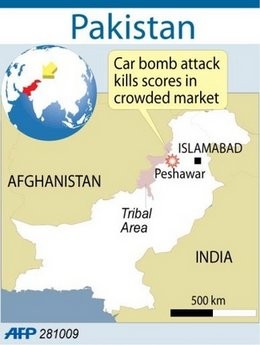 Map locating Peshawar in northwest Pakistan where a massive bomb ripped through a crowded market killing at least 80 people. (AFP Photo)
"Eighty people have been killed and 200 wounded in this blast," North West Frontier Province information minister Mian Iftikhar Hussain told reporters at the bomb site after visiting the main local hospital.
"The death toll is more than 80. Most of them are women and children," said Doctor Sahib Gul, head of the casualty department at Lady Reading Hospital.
"We are facing a shortage of blood. I appeal on citizens to come and donate blood," said Doctor Zafar Iqbal.
The blast coincided with a trip to Pakistan by U.S. Secretary of State Hillary Rodham Clinton.
She was three hours' drive away in the capital, Islamabad, when the blast took place.