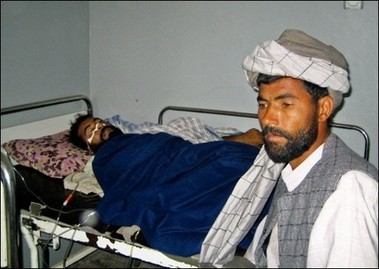 An injured man lies in a hospital bed in the western city of Herat
Fourteen civilians have been killed in a bomb blast in southern Afghanistan as the government said it believed around 25 were killed in fighting between NATO and Taliban three days ago.
The United Nations meanwhile expressed concern about the rising civilian death toll in Afghanistan, where around 40,000 NATO troops and thousands more Afghan troops are fighting a virulent insurgency led by the extremist Taliban.
The 14 -- mostly elderly people and children -- were travelling in a minibus that was struck by a bomb in the southern province of Uruzgan, a provincial government official said Friday.
The bus was hit just outside the provincial capital Tirin Kot, spokesman Abdul Qayom Qayom said. "Fourteen civilians, mostly elders and children, were killed in the blast and three were wounded," he said.
The blast was caused by a mine that had been planted in the road, interior ministry spokesman Zemarai Bashary told AFP.
It was unclear who was behind the attack, he said.
Taliban insurgents are responsible for most of the regular bomb blasts -- including roadside bombings and suicide attacks -- in Afghanistan.
Officials were also trying to establish how many civilians were killed in clashes between NATO's International Security Assistance Force (ISAF) and Taliban insurgents in Kandahar province -- the birthplace of the religious movement.
The interior ministry in Kabul said around 60 people were killed in the battles late Tuesday, and more than half were insurgents.
Bashary said later about 25 of the dead appeared to have been civilians according to preliminary investigations.
An ISAF spokesman in Kandahar said it could confirm 12 civilians were killed in the skirmishes, which included a bombing raid. ISAF has already said it killed 48 insurgents.
President Hamid Karzai on Thursday appointed a commission to investigate the civilian casualties, which came less than a week after he urged NATO forces to take more care after 20 other civilians were reported to have been killed in fighting in the south.
"Once the delegation finishes its investigation, we will be able to give you exact figures on the casualty breakdown," Bashary told AFP.
ISAF has already said it deeply regretted any civilian deaths in the encounters Tuesday, the first of which was sparked when up to 40 men attacked a military base in the Panjwayi district.
The area -- about 35 kilometres (19 miles) west of Kandahar city -- was the focus of Operation Medusa, a major anti-Taliban action in September.
ISAF said Medusa had delivered the biggest blow against the Taliban since they were removed from government in late 2001, with hundreds killed and many others driven out.
The fighters have been entrenching themselves in the area, possibly with a view to taking Kandahar city, ISAF officials said. Tuesday's clashes were against groups of Taliban who were re-infiltrating.
A government-appointed commission found this month that 53 civilians were killed during Operation Medusa, even though ISAF and government officials urged civilians to leave the area before the operation began.
The UN mission in Afghanistan said late Thursday it was concerned about reports of new civilian deaths.
"The United Nations has always made clear that the safety and welfare of civilians must always come first and any civilian casualties are unacceptable, without exception," it said in a statement.