Militants armed with guns and a truck bomb demolished a police department used to detain terror suspects in Pakistan's biggest city of Karachi, killing 18 people and wounding 130 others.
Pakistan's Taliban swiftly claimed responsibility for what was a rare attack on government security forces in Karachi, a politically-tense city of 16 million in the south, far removed from militant strongholds in the northwest.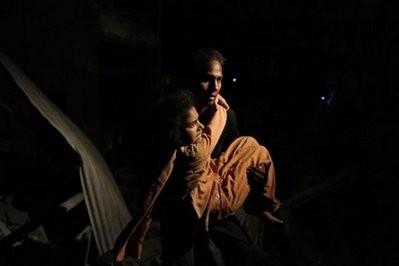 A Pakistani volunteer rescues a woman from the debris of a collapsed building following a bomb blast in Karachi on November 11, 2010
Karachi is Pakistan's economic capital, home to its stock exchange and the Arabian Sea port where NATO supplies dock to be trucked overland to support the more than 150,000 US-led troops fighting the Taliban in Afghanistan.
The attackers targeted the police's Crime Investigation Department in the most heavily protected heart of Karachi, not far from five-star hotel chains frequented by Westerners, the US consulate and Pakistani government offices.
The band of militants opened fire, starting a gunbattle with police before detonating their bomb in an attack that at least one official compared to the 2008 attack on the five-star Marriott hotel in Islamabad that killed 60 people.
Off duty policeman Mohammad Arshad, 32, described scenes of horror after narrowly escaping the bomb while popping out for a cup of tea.
"I heard a huge blast. I ran towards the site and saw dead bodies and injured lying on the ground," he told AFP, blood splattered across his clothes.
"I picked up the people one by one to take them to the hospital. What I saw was beyond imagination."
The compound was used to detain criminals and terror suspects, and contained a women's and a men's police station.
"There are 25 women and 20 children injured. A total of 130 injured people have been brought into two hospitals," Hamid Parhiar, police surgeon for southern province Sindh, of which Karachi is the capital, told AFP.
Doctor Semi Jamali at the Jinnah Hospital confirmed more than 100 people were wounded and said that a police woman was among the dead.
Broken glass littered the area for up to two kilometres (one mile) from the bomb site, where rescue workers installed search lights in the dark as they dug frantically through the rubble for survivors, an AFP reporter said.
"The building has been completely destroyed. I can see a crater of 15 feet (five metres)," police official Tariq Razzaq Dharejo told AFP.
The Sindh police chief said 18 people were killed and that the attackers dismantled the security cordon at the department by opening fire on police.
"There was an exchange of fire between police and militants. Then it was followed by a truck loaded with explosives," Salahuddin Babar Khattak told reporters at the scene.
The CID building was used to hold militants in custody, he said, but no important suspect was in detention at the time of the attack.
"It was a huge blast, which created a big crater, a bit like the Islamabad Marriott hotel," said Zulfiqar Mirza, the interior minister of Sindh.
Sharmilla Farooqi, a spokeswoman for the Sindh government, said five policemen were among the dead.
The Taliban said they had carried out the attack.
"We accept responsibility for this attack. They used to arrest and torture our comrades here. We will target everyone who does this in the same way," Taliban spokesman Azam Tariq told AFP from an undisclosed location.
Suicide attacks and bombings blamed on homegrown Taliban and other Islamist extremist networks have killed around 3,800 people across Pakistan, since government troops stormed a radical mosque in Islamabad three years ago.
The Karachi bombing came a week after a suicide bombing on a mosque packed with worshippers killed 68 people in northwest Pakistan.
Karachi has already suffered its most serious bout of political violence in years, with more than 150 people killed since August. The city's Urdu-speaking majority and Pashtun migrants blame each other for the unrest.
The United States frequently calls on Pakistan to step up the fight against extremists that it says are fuelling the Taliban-led uprising over the border in Afghanistan.
US Senate Foreign Relations Committee member Kirsten Gillibrand, who is in Islamabad, repeated that message.
"The military and intelligence must end safe zones for militants along the border with Afghanistan and improve education and opportunity so that younger generations are not drawn to terrorist organisations," she said.
"These attacks will not stop unless Pakistan becomes a full partner in the fight against terrorism."