A car bomb on Majorca killed two police officers Thursday in the second major attack in two days blamed by the Spanish government on the armed Basque separatist group ETA.
Carlos Saenz de Tejada Garcia, 28, and Diego Salva Lesaun, 27, died almost instantly in the blast, Interior Minister Alfredo Perez Rubalcaba told reporters in Majorca.
The booby-trap bomb detonated under their patrol car outside a barracks in the coastal town of Palmanova, he added.
Later Thursday police found a second bomb under another police car at another nearby barracks and carried out a controlled explosion after they were unable to defuse it.
Prime Minister Jose Luis Rodriguez Zapatero blamed the "criminal attack" on the "terrorist group ETA" and vowed to bring all members of the outfit to justice.
"They have no chance to hide, they can't flee, they can't escape justice, they will be detained, they will be sentenced, they will spend their lives in jail," he said in a televised address.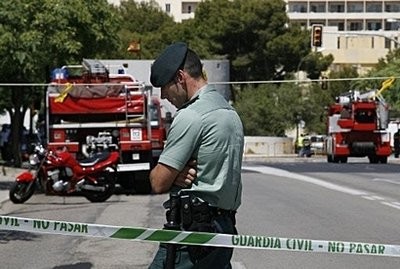 A civil guard is on duty while emergency services wait to evacuate the wounded from the civil guards barracks of Calvia, on the Balearic Island of Mallorca.
For several hours, the authorities closed all ports and airports on the Mediterranean island, a popular holiday destination, after the bomb detonated as part of their manhunt, disrupting travel plans for thousands of tourists during the peak holiday season.
The powerful blast, which went off at around 2:00 pm (1200 GMT), turned the guards' official vehicle into a fireball, television footage taken shortly after the blast showed.
"We saw a big explosion, a column of smoke in front of the civil guard barracks and a four-by-four vehicle fly through the air," a man named Paco who witnessed the attack told public radio RNE.
While there was no immediate claim of responsibility, Spanish media said the bombing bore similarities to previous attacks by the Basque separatist movement, which marks its 50th anniversary on Friday.
The Majorca attack came a day after 64 people, including women and children, were wounded when a massive car bomb exploded outside a police barracks in Burgos, northern Spain, an attack the government has also blamed on ETA.
The group often makes a warning call to the authorities before setting off a bomb but in both these cases no warning has been reported.
The area where Thursday's blast occurred is near the island's capital Palma, a magnet for tourists and only a few kilometres from the Marivent Palace where Spain's royal family traditionally spends its summer holiday.
ETA tried to kill King Juan Carlos in 1995 while he was on the island. Later that that same year, they targetted the leader of the conservative opposition party and future Prime Minister Jose Maria Aznar.
Thousands of tourists were affected by the closure Thursday of Majorca's ports and airports.
Twenty-six planes were prevented from landing and another 21 could not take off from the airport, Spain's third busiest, for several hours, airport officials said.
The closure also had a knock-on effect in many European cities, where airports reported delays owing to the rescheduling of flights.
Passengers boarding ferries and cruise ships faced lengthy searches, and road blocks set up across the island caused long traffic jams.
Hundreds of tourists were unable to leave hotels in the area as police established a two-kilometre security perimeter around the police building.
ETA will on Friday mark the 50th anniversary of its founding by nationalist students inspired by Marxist-Leninist teachings, at a time when Spain was still run by right-wing dictator Francisco Franco.
It is blamed for the deaths of over 820 people as part of its campaign for an independent Basque homeland encompassing parts of northern Spain and southwest France.
Spanish newspaper El Mundo said on Sunday that security forces were on the alert after having received information from France that ETA planned to bring three vans packed with explosives into Spain.
The last fatal attack blamed on ETA was on June 19, when a policeman was killed in a car-bomb blast near the Basque city of Bilbao.