SANAA, Dec 29, 2009 (AFP) - Yemen says the Nigerian accused of trying to blow up a US-bound passenger jet on Christmas Day was there until a few weeks ago, while the first photos emerged Tuesday of his explosive-laden underpants.
Umar Farouk Abdulmutallab, who allegedly tried to use a syringe to set off a high explosive called PETN sewn into his underwear, reportedly confessed to being trained for his mission by an Al-Qaeda bomb maker in Yemen.

"He stayed in Yemen between the beginning of August and the beginning of December, after having received a visa to study Arabic at an institute in Sanaa where he had previously studied," a Yemeni foreign ministry spokesman said.
Yemen gave him a visa after security officials were "reassured that he had been granted visas by friendly countries, and still held a valid visa to the US, where he had visited before," the spokesman said.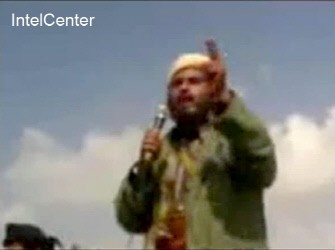 This still image from a video recording of an address by an al-Qaeda in the Arabian Peninsula (AQAP) member giving a eulogy for individuals killed in an airstrike conducted in Abyan Province, Yemen on December 19 that killed key AQAP figures. (AFP photo)
US media, meanwhile, published government photographs showing the suspect's singed underwear, a syringe and a plastic container believed to have stored the explosive PETN, or pentaerythritol tetranitrate.
The device ignited and sent flames up the side of the cabin but failed to detonate properly as the Northwest Airlines flight with 290 people on board, prepared to land in Detroit. The suspect, badly burned, was apprehended by passengers and crew and is now in a Michigan jail pending trial.
Al-Qaeda in the Arabian Peninsula (AQAP), an affiliate of Osama bin Laden's terror network led by Yemeni and Saudi radicals, claimed on Monday that it was behind the plot and threatened new attacks against the West.
An Internet statement, which was accompanied by a picture of suspected would-be bomber Abdulmutallab, boasted of the coup delivered by the "Nigerian brother" against Western airport security.
According to The New York Times, Abdulmutallab told FBI agents that he was connected to the Al-Qaeda affiliate by a radical Yemeni cleric whom he contacted online.
The 23-year-old suspect, who even at school was likened to an imam because of an Islamic fervour, was a regular user of an online Islamic Forum and fantasized of holy war, according to US press reports on Tuesday.
With a sharpening focus on Yemen as perhaps a new frontline in the war on terror, President Barack Obama broke his silence three days after the attack and vowed to hunt down extremists wherever they plot against the United States.
He pledged Monday to "disrupt, to dismantle and defeat the violent extremists who threaten us -- whether they are from Afghanistan or Pakistan, Yemen or Somalia or anywhere."
Yemen's confirmation that Abdulmutallab was in the country as recently as early December came as US investigators tried to determine if he was working alone or really was instructed by Al-Qaeda as the terror network claims.
A controversy is also raging in the United States over the flawed no-fly list system that allowed Abdulmutallab to get on a plane for Detroit with a valid US visa despite the fact he was on a broad terrorist watch-list.
He was added to the 500,000-strong list last month after his father warned US embassy officials in Abuja about his son's increasing radicalism, but not considered dangerous enough to put on a definitive no-fly list of 4,000 names.
Obama's security chief, Homeland Security Secretary Janet Napolitano, has demanded to know how Abdulmutallab retained a US visa issued in 2008 even though he was added to a terrorism database used by US security agencies.
The US State Department said there was judged to be "insufficient" evidence to revoke the visa.
It said the concerns of the father, a wealthy Nigerian banker, had also been relayed by the embassy to the National Counterterrorism Center, which coordinates intelligence among various government agencies.
Obama has ordered a review of the no-fly list system and a separate probe into how Abdulmutallab managed to sneak an explosive device past security at Amsterdam's Schiphol airport onto a plane bound for the United States.
The repercussions were being felt by air travelers around the globe, with China on Tuesday the latest country to call on the United States to strengthen security checks.
So far measures seen at airports worldwide have been inconsistent, with some passengers reporting more thorough pat-downs as they pass through security and others saying little had changed.
US restrictions on passengers holding coats or blankets in their laps and entering restrooms for the last hour of their flights have been relaxed to be at the discretion of the individual air crews.