PESHAWAR, Pakistan, Nov 13, 2009 (AFP) - A powerful suicide car bomb ripped through the Peshawar headquarters of Pakistan's top spy agency Friday, killing at least 10 people and destroying part of the highly-fortified building.
Six policemen were killed in a similar bombing in another town in the northwest, the latest in a spate of attacks as 30,000 troops press on with their most ambitious offensive to date against homegrown Taliban militants in their mountain strongholds on the Afghan border.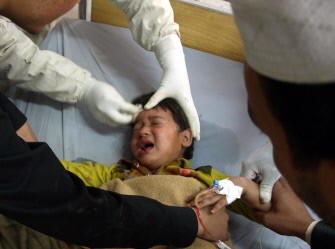 Pakistani medics treat a boy wounded in a bomb blast at the the Inter Services Intelligence (ISI) building in Peshawar on November 13, 2009. (AFP photo)
The blast devastated the three-storey Inter Services Intelligence (ISI) provincial headquarters in the northwestern city of Peshawar, and at least part of the building collapsed.
Huge clouds of smoke spewed into the sky after the explosion and debris littered the ground, witnesses said.
Five bodies lay on the road after the attack, said an AFP reporter in the city on the edge of Pakistan's lawless tribal belt which is infested with Al-Qaeda and Taliban fighters.
Peshawar and its satellite towns in the northwest have become a particular target for major attacks by suspected Taliban militants since the military offensive was launched last month.
Absar Ahmed, a 25-year-old taxi driver, said he was driving near the ISI building when he heard gunshots followed by a huge blast.
"My car was hurled on to the pavement by the force of the blast and my head banged into the windscreen. When I looked back to check on my passenger there was smoke all over," Ahmed told AFP in hospital.
The United States has put Pakistan on the frontline of its war against Al-Qaeda and has been increasingly disturbed by deteriorating security in the country where attacks and bombings have killed about 2,500 people in 28 months.
Pakistan's powerful and shadowy intelligence agencies have a history of supporting the Islamist groups in a bid to counter rival India, but militant attacks have turned against domestic security targets in the last two years.
"A suicide bomber struck an explosives-laden vehicle on a military check post on Artillery Road at 0645 hours (0145 GMT)," a military statement said.
"Seven military officials and three civilians were martyred and 60 others were injured," it said.
"Ten people are dead... Up to 300 kilograms (660 pounds) of high explosives and mortars were packed into the car bomb," North West Frontier Province police chief Malik Naveed told AFP.
A second suicide bomber rammed a car packed with explosives into a suburban police station in the garrison town of Bannu, southwest of Peshawar, killing six policemen and wounding 23 others, police said.
"Among the injured are 17 policemen, three paramilitary personnel and three suspects who were in lock-up," police chief Iqbal Marwat told AFP.
"The police station chief was badly wounded and had received threats of a suicide attack," he added.
The most devastating bomb attack in Pakistan in two years killed at least 118 people in a crowded Peshawar market on October 28 as militants put ordinary civilians in the crosshairs of their bloody campaign.
Friday's bombing was the first major attack outside an ISI installation since May, when a suicide attack on a police building in the city of Lahore killed 24 people.
The government blames increasing attacks on Tehreek-e-Taliban Pakistan (TTP), which is the target of the ongoing offensive and which wants to avenge the killing of their leader Baitullah Mehsud by a US missile in August.
The latest attacks came after stiff Taliban resistance killed at least 17 Pakistani soldiers Thursday in the military's deadliest day since launching its major offensive in South Waziristan, security officials said.
Pakistan has sent a 30,000-strong force, backed by war planes and attack helicopters, into battle in a US-endorsed mission to wipe out the chief strongholds of Tehreek-e-Taliban in the tribal district of South Waziristan.
More than 240 people have been killed in bombings and suicide attacks since offensive began on October 17.
On Tuesday, a Taliban spokesman told AFP by telephone from an undisclosed location that the militia had embarked on a guerrilla war from the mountains of South Waziristan and would continue to attack cities.