A series of bombs rocked mainly Shi'ite areas of Baghdad on Tuesday, killing at least 40 people and wounding dozens two days after al Qaeda militants staged a bloodbath when they took hostages in a Christian church.
The bombings occurred hours after a memorial service for some of the 52 hostages and police killed in Sunday's church raid, and as the Iraqi government vowed to step up security for Iraq's Christian minority.
The third major assault in Iraq since Friday appeared to demonstrate that a weakened but stubborn insurgency has a greater capacity to carry out large-scale strikes than U.S. and Iraqi officials have acknowledged.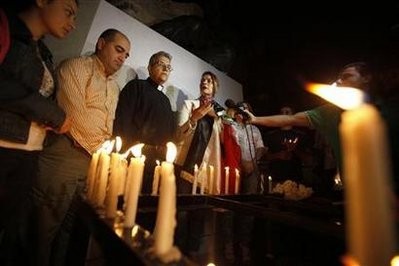 Iraqi Princess Doctor Nesrine, whose grandfather is Iraq's king Faisal first bin al-Sharif Hussein al-Hashimi speaks out for victims of the attack on the Our Lady of Salvation church of Baghdad, in front of the Martyrs square in Beirut November 2, 2010
Iraq remains in political limbo almost eight months after an inconclusive election, raising fears Sunni Islamist groups like al Qaeda might exploit tensions to reignite sectarian war.
In Washington, the Obama administration said the attacks would not "stop Iraq's progress."
"We have confidence that the people of Iraq will remain steadfast in their rejection of efforts by extremists to spark sectarian tension," White House National Security Council spokesman Mike Hammer said.
Iraqi officials gave differing casualty tolls from the attacks.
"The initial death toll we have so far is 40 killed, 80 wounded. I repeat, it is an initial death toll," Baghdad security spokesman Major General Qassim al-Moussawi said, adding that there had been 14 explosions in all.
"(They were) all in Shi'ite neighborhoods."
Health Minister Saleh al-Hasnawi said 36 people died, but that could rise, and 320 were wounded, most of whom had been released from hospitals.
An Interior Ministry source, who asked not to be named, put the toll at 57 dead and 248 wounded. The source said there were 14 car bombs, two roadside bombs and eight mortar rounds although U.S. forces said their radar had not detected any mortar fire.
One of the biggest explosions appeared to target restaurants and cafes in the Shi'ite slum of Sadr City.
"We do not have any conclusive information at this time as to the responsible parties but this seems to be typical AQI (al Qaeda in Iraq) tactics," Lieutenant Colonel Eric Bloom, a U.S. military spokesman in Baghdad, said in an email.
FOURTEEN COFFINS
The attacks came two months after the U.S. military formally ended combat operations in Iraq. Iraqi security forces now have primary responsibility for protecting the public.
"We are in an ongoing battle and we don't surrender to them. Security forces are on a state of alert and the situation is under control," said Major General Mohammed al-Askari, a Defense Ministry spokesman.
"There is a (security) breach, and we as security forces, are taking responsibility for it."
In Sunday's attack, gunmen tied to an Iraqi al Qaeda group seized hostages during Sunday mass at one of Baghdad's biggest churches, demanding the release of women they said had converted to Islam but were being detained by the Coptic church in Egypt.
The attack, which lasted several hours, ended when security forces raided the church to free more than 100 Iraqi Catholics.
Al Qaeda's Iraqi affiliate, the Islamic State of Iraq (ISI), said in a statement that its deadline for the women to be released had passed and warned that all Christians and churches were targets for further attacks.
Sunday's attack was the worst assault on Iraq's Christians since 2003, and drove fear deep into the hearts of many who had so far resisted the urge to flee their war-torn country.
"Why don't they tell us frankly if they aim at emptying the country of the Christians? This is our country. We will stick to it. It is absolutely barbaric to target people who are praying," Bishop Matti Shaba Matoka, head of the Syrian Catholic Parish in Baghdad, told Reuters at the memorial service.
Security was tight around the Chaldean Saint Joseph Church, where the service was held. More than a dozen coffins, draped in Iraqi flags, were lined up near the main podium. Wails echoed throughout the church during the service.
The church siege was far from being one of the bloodiest incidents in the 7-1/2 years of sectarian warfare and insurgency unleashed after the invasion, and in which tens of thousands of Iraqis have been killed, the vast majority Shi'ite and Sunni Muslims.
But it has provoked a worldwide outburst of anguish and cast a spotlight on Iraq's fragile stability as the sectarian bloodshed recedes and U.S. forces scale down their presence ahead of a full withdrawal next year.
Moussawi said the assailants were disguised as guards working for a private security firm and carried fake identification.
Defense Minister Abdel Qader Jassim said authorities ordered the detention of the police commander in charge of the district where the church attack took place for questioning, a standard procedure after high-profile attacks.