A young boy playing with matches has confessed to starting one of the deadly fires that recently devastated southern California, according to the Los Angeles Sheriff's Department.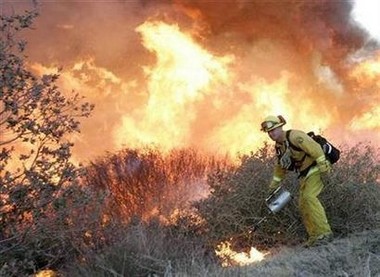 A firefighter battles a fire in southern California, in this October 24, 2007 file photo.
The Buckweed fire in northern Los Angeles County, which began in the early afternoon of Sunday, October 21, was first blamed on downed power lines, but the investigation later turned into one of suspected arson.
By Monday "detectives identified a male juvenile as the suspect," the Sheriff's Department said in a statement late Tuesday.
"After talking with the suspect, he admitted to playing with matches and accidentally starting the fire. The boy was released to his parents."
The case was presented to the Los Angeles County District Attorney's office "for further action," the statement read.
An official with the Sheriff's Department described the boy as a "pre-teen."
The devastating wildfires were among the worst in Californian history, leaving seven people dead, destroying 2,000 homes and displacing 640,000 people as they tore through tinder-dry parks and forests.
The Buckweed fire forced more than 15,000 people from their homes. Some 1,200 firefighters battled the blaze, which was contained on October 24, Sheriff's Department said. Three people were injured in the blaze.
At the height of the crisis 23 fires were raging. But a lull in winds which fueled the flames early last week combined with cooling temperatures allowed firefighters to gain the upper hand.
The two remaining blazes, both in the San Diego area, are largely contained, according to the Los Angeles Times.