LONDON, July 28, 2010 (AFP) - BP's sacrifice of chief executive Tony Hayward is not sufficient to restore the stricken oil giant's reputation and financial health after the Gulf of Mexico spill, British commentators warned Wednesday.
"One top kill won't solve problems," said the Guardian newspaper, adding the company faced "an uphill struggle."
"It needs to stabilise its financial position and resume its dividend payments; it needs to rebuild its reputation; and above all it needs a root-and-branch reform of its safety culture."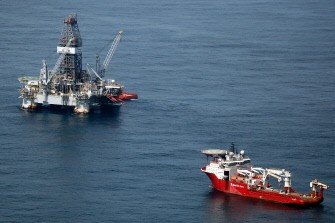 Ships assist in clean up and containment near the source of the BP Deepwater Horizon oil spill July 27, 2010 in the Gulf of Mexico off the coast of Louisiana. AFP
The Independent commented: "Does this signal closure for the Deepwater Horizon disaster?
"The answer has to be no," it added, saying it was still not certain the well that had been spewing oil was permanently closed off and the environmental damage would take years to assess and repair.
Hayward announced he was stepping down on Tuesday, following a string of gaffes as the public face of the firm in its three-month fight to stop oil leaking into the Gulf of Mexico.
BP also said it was putting aside more than 32 billion dollars to cover the cost of the spill, and reported a record second-quarter loss of 16.9 billion dollars.
Some commentators were concerned that Bob Dudley, Hayward's replacement for the top job, had only been put in the post because as an American he would appease anger in the White House over the spill.
"It is widely suspected that Bob Dudley has been chosen as the successor to Mr Hayward primarily for his American accent," said the Independent.
Many commentators were amused that Hayward managed to fit in one final fiery public outburst as he announced his departure, in which the executive commented he had been "demonised and vilified" and that "life isn't fair."
The Daily Mail described it as the "blundering BP boss's lament," while the Telegraph declared: "Era of 'Toxic Tony' ends with a final fiery salvo."
"There's still one reliable BP gusher that won't stop, despite the latest attempt to cap the flow for good," said the Telegraph.
"The US probably won't mourn his absence, but many in Britain will miss the BP bumbler."