BRASILIA, Jan 1, 2011 (AFP) - Brazil's hugely popular President Luiz Inacio Lula da Silva is to step down Saturday, in a lavish ceremony ushering in his successor and protegee, Dilma Rousseff.
Rousseff's ascension will mark the first time Brazil -- Latin America's biggest economy -- has ever been ruled by a woman.
It is certain to be an emotional moment for Lula, a one-time shoeshine boy and factory metalworker who proved it was possible in his country to go from poverty to the ultimate position of power.
Rousseff is to kick off the ceremony inaugurating her four-year mandate at 2:15 pm (1615 GMT) with a ride through Brazil's capital in an open-top Rolls-Royce.
After dropping in on the Brazilian Congress, she will join Lula at the presidential palace, where he will drape her in the green-and-gold Brazilian official sash and the two will greet visiting heads of state and government, mostly from Latin America.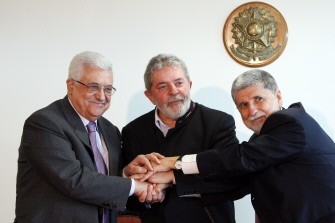 The President of the Palestinian National Authority, Mahmoud Abbas (L), Brazilian President Luiz Inacio Lula da Silva (C) and Brazilian Foreign Minister Celso Amorim, pose during a meeting at Planalto Palace in Brasilia, Brazil on December 31, 2010. Abbas arrived in Brazil to attend the inauguration of the country's first female president, Dilma Rousseff, on January 1, 2011. AFP
Rousseff will then give her first speech to the nation as president, likely emphasizing the importance of becoming the first female head of state -- and her debt to Lula in getting her elected.
The 63-year-old Rousseff, a former guerrilla and trained economist who was Lula's cabinet chief before she decided to run to succeed him, has vowed to maintain the policies that have seen Brazil grow in prosperity and political might.
Reducing the country's vast rich-poor gap is her stated priority, but she will also face challenges in preparing Brazil to host the 2014 football World Cup and the 2016 Olympics.
But while Lula enjoyed strong world economic growth during most of his eight years in power, Rousseff is taking office amid greater uncertainty.
Inflation is creeping above the government's 4.5-percent target, infrastructure is creaking under the strain of economic expansion, and Brazil's biggest trading partner, China, is taking steps to avoid financial bubbles.
Rousseff will also have to handle a couple of issues left over from Lula's administration.
One is a long-delayed decision on a multi-billion-dollar tender to buy 36 modern jet fighters. Lula had expressed a preference for a French fighter, the Rafale made by Dassault, but in the end said he would leave it to Rousseff to decide between that and rival bids from the United States' Boeing and Sweden's Saab.
Another is a diplomatic row with Italy triggered by Lula's decision Friday to refuse the extradition of an Italian fugitive, Cesare Battisti, wanted in his native country for four murders committed in the 1970s.
Although seen very much as Lula's proxy, at least initially, Rousseff is expected by some observers to want to carve out her own direction.
If she disappoints though, she could find any re-election hopes in 2014 supplanted by a comeback bid by the man she replaced.
Lula said weeks ago he was a "natural born politician" who would "never say never" to running for office again.
He nuanced that later by saying he would be watching Rousseff's performance and stressing that "the only possibility I see of Dilma not being a candidate in 2014 is if she doesn't want to be."
But she, like most of Brazil, is aware that Lula was only forced to step down because of a constitutional limit of two consecutive presidential terms.
Rousseff has a reputation for fierce determination, earning her the nickname of "Iron Lady," in the mold of former British prime minister Margaret Thatcher.
Known for upbraiding ministers in public, she recently told reporters, tongue-in-cheek, "I'm in a government, a country, where no man takes a stand. I'm the only mean woman in Brazil, surrounded by kind gentlemen."