NOVA FRIBURGO, Brazil, Jan 20, 2011 (AFP) - More than a week after deadly floods and mudslides that killed at least 744 people, surviving residents in the Serrana mountain region near Rio wondered Thursday how they can ever return to normal lives.
"Hope is the last thing you lose. I hope my grandchildren will come to know a new Friburgo," 62-year-old Ari Osvaldo, a shopowner in Brazil's hardest-hit town of Nova Friburgo, told AFP as he reopened his business.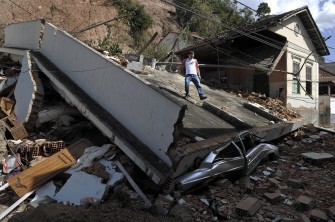 A resident comes down a house destroyed by a landslides, in Nova Friburgo, Rio de Janeiro state, on January 20, 2011. AFP
Bulldozers worked non-stop to clear mountains of mud and debris, while volunteers, soldiers and firemen helped to uncover the streets. Slowly, banks and supermarkets have reopened, and commerce was returning.
In this town and many nearby villages, the devastation caused by the mudslides had wrought such death and disruption that despair mounted as quickly as the body count.
As of early Thursday, the death toll for the region stood at 744, according to Rio's state health and civil defense service. Nova Friburgo accounted for nearly half the total, 357 deaths.
Other affected towns were Teresopolis, with 302 killed, Petropolis, with 64 deaths, and the village of Sumidouro, where 21 perished.
The disaster was reported to be the worst natural catastrophe in Brazil's history.
With around 200 people still missing, there were fears the final death toll could be around 1,000.
"People are totally disoriented," Antonio Pestana, a state government worker, said as he pointed out a resident picking through the debris of his home for anything worth recovering.
Sergio Reis, a restaurateur, was offering three dishes off his menu because of limited supplies. He was bringing water from his home because there was none in the town center.
Even in the poor neighborhood of Alta Floresta, small grocery stores and bars were reopening, while around them firemen continued efforts to locate and recover bodies in destroyed homes.
Everywhere, signs remained of the disaster: a white car thrown on top of a roof by floodwaters, the stench of rotting corpses, piles of smashed household objects.
At a field hospital set up in front of Nova Friburgo's central church, military medics said the types of cases they were seeing had changed.
"We're no longer getting patients with cuts and fractures, like we did a week ago. Now we are in a phase where people are arriving with diarrhea, pneumonia, heart attacks, high blood pressure and post-traumatic stress," one medic explained.
Nearby, in a gymnasium converted to a makeshift morgue, a woman exits, sobbing after having found the body of her son.
For many here, a return to normality will be elusive, and the scars of the disaster will linger long after the mud is scraped away.