Brazil and Portugal were propelled on a collision course, while Lady Luck smiled on England during the final draw for .the 2010 World Cup in South Africa
The Brazilians and Portuguese will clash in Group G and will be joined by top African side Ivory Coast and unknown quantities North Korea in what will inevitably be dubbed the 'Group of Death'.
"It's a very interesting group," said Brazilian coach Dunga.
"Against Portugal with their style of play and their players it will be like Brazil against Brazil.
"The big question mark is with North Korea. I will have to take a close look at them. Ivory Coast -- they are very strong side."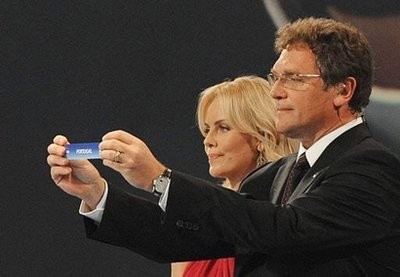 FIFA Secretary General Jerome Valcke(R) flanked by South African actress Charlize Theron holds up Portugal during the World Cup 2010 draw at the Cape Town International Convention Centre (CTICC) in Cape Town

England coach Fabio Capello

had reason to be happy as his men drew a relatively lightweight trio of the United States,

Algeria

and Slovenia.

Ironically it was David Beckham, who plays for the Los Angeles Galaxy, who pulled out the ball which paired up the Americans with England in the World Cup for the first time since 1950 when the United States pulled off a shock 1-0 win.

"It's not so bad," Capello said of England's draw. "We played against the USA and Slovenia at home - we played well, we won, but when we have to play here in June it will be difficult.

"There are other groups that are stronger than ours but I remember when I was a player in Germany in 1974, sometimes you can think the group is easy and it will not be so," Capello said.

"That is what I will tell the players - because psychologically the games you have to play in a World Cup are different to other games.

"I know from my experience as a player that when you play here the pressure is different and the mentality is different."

Asked if England could win the tournament, he replied: "We have to win!"

"It gives us a great opportunity to challenge ourselves in the first game," US coach Bob Bradley said. "We believe in playing our game, playing our tempo. We have the kind of players that can be dangerous against very good teams."

British newspapers gloated over England's draw saying it gave them a clear path to the knockout stages and was the "best English group since The Beatles," said The Sun.

The Times called it "one of the most favourable draws in England's history", the Daily Express called it an "open passage into the knockout stages", while the Daily Mirror headlined: "The Dream is On!"

Hosts South Africa were given a tough assignment, getting 1998 winners France, Central America powerhouse Mexico and Uruguay.

Their Brazilian coach Carlos Alberto Parreira said his side was not afraid of any of the teams they had drawn.

"We are going to play the ball on the ground. We are going to prepare ourselves, we are not afraid. Mexico are a good side, France have got players in the Champions League and they are good side."

French coach Raymond Domenech said: "We have landed the hosts and that is never easy. we will be playing away from home."

"The groups are well balanced though. There really isn't a Group of Death as such this time around."

Group B has Diego Maradona's Argentina, South Korea, Nigeria and Greece, with Germany, Australia, Ghana and Serbia making up an open Group D.

German team manager Oliver Bierhoff said: We are glad we did not draw France or Portugal, but Australia, Serbia and Ghana will also not be easy.

Coach Joachim Loew agreed: "We are quite happy with this draw, it's an interesting group.

Germany will be under enormous pressure to win their opening game against Australia -- and that suits the Socceroos, goalkeeper Mark Schwarzer said on Saturday.

"Obviously, it's a massive game first up and the great thing for us is that Germany will be under all the pressure," Schwarzer said from London.

Coach Pim Verbeek said Group D represented a major challenge for his Socceroos.

"We know how good we can be, it's a tough group, but the more difficult it is for the players the bigger the challenge," he said in a statement.

The Netherlands fared well getting Japan, Cameroon and Denmark in Group E. defending champions Italy also blew a sigh of relief bagging New Zealand, Paraguay and rookies Slovakia in Group F while in the final Group H, European champions Spain go up against Honduras, Chile and Switzerland.

Italian coach Marcello Lippi though warned that appearances can be deceptive.

"The more you think a group will be easy the more difficult it becomes," he said.

"I'm neither satisfied nor upset. They are all difficult opponents but then we will also cast an eye on the (possible) second round and quarter-final (opponents)."

The draw, which saw the 32 qualified teams split into eight groups of four for the first round stage of the June 11-July 11 tournament, laid down the battle lines for what will be the first World Cup to be played on African soil.Facts: World Cup venues

With the eyes of the footballing world firmly focused on this historic city perched on the southern tip of the continent, it was an evening full of symbolic significance both for Africa and for South Africa, coming as it did just 15 years after the end of the apartheid era.

After a show that featured both traditional and modern African music, the stage was handed over to South African-born Academy Award winning actress Charlize Theron who took on the duties of main presenter to be joined on stage later by other sporting celebrities including Beckham.

First, as pre-arranged, out of the seeded Pot 1 were hosts South Africa who will be playing in just their third World Cup and who, at 86th in the world, are the lowest-ranking team in the competition.

They were followed in turn by heavyweights Argentina, England, Germany, Netherlands, Italy, Brazil and Spain.Facts: World Cup winners

It was then a question of who would go up against them from the three remaining pots which had been carefully assembled to ensure that teams from the same continent would be kept apart as far as possible.

The latter contained the two most dangerous floaters in the draw - France and Portugal - and when Portugal were flung in with Brazil the atmosphere turned electric in the main auditorium of the Cape Town International Convention Centre.