ANGRA DOS REIS, Brazil, Jan 4, 2010 (AFP) - Rescue teams scoured ravines and hillsides Monday searching for survivors of landslides that have killed 72 people in the past days as hopes dimmed with each passing hour.
Searchers found four bodies on Monday in Angra dos Reis, a beach city 150 kilometers (93 miles) south of Rio de Janeiro and firefighters said they thought more bodies could still be found.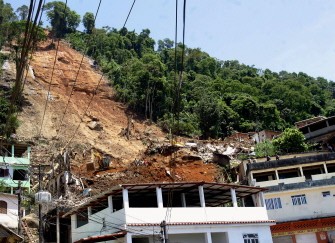 View taken January 4, 2010 of the Morro Carioca hill in Angra dos Reis, where a landslide buried several houses on January 1st early morning (AFP photo)
"One of the bodies was that of a baby who was not on the list of the missing. This baby was probably with adults who also were buried," said Pedro Machado, a civil defense official.
Some Angra inhabitants began evacuating their homes Monday by order of the authorities. "There's an imminent danger of new landslides," Mayor Tuca Jordao told reporters.
Authorities declined to provide an estimate of how many people were abandoning their homes, but they said Sunday that around 500 houses in high-risk areas of the city had been condemned or declared out of bounds.
"I can't think about anything else. I can barely give thanks for being alive. The walls of the home we built with so much sacrifice are already developing cracks," Carmen Maia Reis, 35, told reporters after emptying her house of belongings.
Her house, like many others, will be torn down, but police have stepped up patrols of the condemned buildings to prevent looting.
Angra overlooks Ilha Grande island, where 29 people were killed in Friday's landslides, including 28 in a luxury hotel nestled at the foot of a jungle-covered hill.
Some 40 guests were staying at the Hotel Sankay, which catered to Brazilian and foreign tourists seeking a remote beachside hideaway. It was not immediately known if foreigners were among the dead.
Under blue skies and a hot summer sun, about 200 rescue workers and sniffer dogs on Monday were searching tonnes of mud and rocks that swept everything out to sea.
Angra dos Reis was hit by devastating floods in 2002 when 40 people were killed and rescue operations lasted three months.