BRASILIA (AFP) – On his final day in office, Brazilian President Luiz Inacio Lula da Silva sparked a diplomatic row by refusing to extradite an Italian fugitive wanted by Rome for a string of murders in the 1970s.
Italy immediately recalled its ambassador to Brazil to protest Lula's decision not to extradite Cesare Battisti, considered by Rome as a "terrorist."
Italian Prime Minister Silvio Berlusconi stormed "this affair is far from over."
But Brazil shot back, accusing Italy of being "impertinent" for criticizing the judgment of its head of state.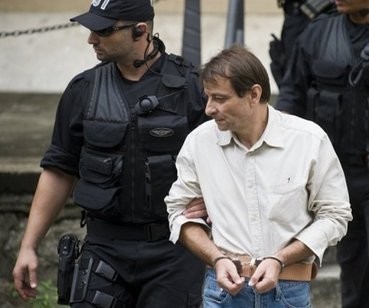 AFP file - Italian ex-militant Cesare Battisti leaves Rio de Janeiro's Federal Court in 2009, after testifying.
Brazilian Foreign Minister Celso Amorim, reading from a prepared statement, said: "The president today took the decision to not agree to the extradition of Italian citizen Cesare Battisti on the basis of a report by the attorney general."
In a rare outburst, Italy's usually reticent President Giorgio Napolitano, an ex-member of the Italian Communist Party, wrote an open letter to Lula to express his "astonishment and great regret".
The man at the center of the dispute, Battisti, 56, has spent three decades on the run in France, Mexico and finally Brazil, where he has been in jail since 2007 pending the outcome of the Italian extradition request.
Although Amorim said it was not meant as an "affront" to Italy, he scolded Rome for warning that it would regard a refusal to extradite Battisti as "absolutely incomprehensible and unacceptable."
Italian Defense Minister Ignazio La Russa told the ANSA news agency his government would do everything possible to make Brazil back down "on this unjust and seriously offensive decision."
In an interview with SKY TG24, La Russa said "the fact that Lula waited until the last day of his term in office shows a lack of courage."
Battisti's lawyer, Luis Roberto Barroso, welcomed Lula's decision in a statement, saying it followed Brazil's "humanist tradition and its nobility in the face of inappropriately expressed pressure by the Italian government."
Lula's government last year tried to declare Battisti a refugee, prompting Rome to withdrew its ambassador in protest.
But Brazil's Supreme Court overturned that designation as illegal, saying the crimes imputed to the Italian were not political in nature.
The court said a bilateral extradition treaty applied, but left it to Lula to decide the outcome.
The head of the Supreme Court, Cezar Peluso, told reporters he and his fellow justices would weigh the legality of Lula's decision when the court returns from vacation in February.
Battisti, who launched a career as a crime novelist while living in France, has said he is innocent of the murder charges. He claims he is the victim of persecution in Italy and risks being killed if returned there.
Rome considers Battisti a "terrorist" for his membership in the Armed Proletariat for Communism, a radical left-wing group that killed several people in Italy in the 1970s.
His convictions stem from the group's 1978-1979 murders of a prison guard, a special investigator of terrorist organizations, a butcher and a jeweler. In 1993, he was sentenced in absentia to life in prison.
Relatives of those killed by the PAC reacted with anger and frustration to the Brazilian decision.
Alessandro Santoro, whose father Antonio was killed in Udine in northern Italy in 1978, said he was "speechless," adding it was "a scandal... a situation that has got progressively worse over time."
"With this decision President Lula has revealed himself an accomplice to Battisti, an accomplice to a murderer!" said Adriano Sabbadin, whose father Lino was killed in 1979.
After living in France for more than a decade, then fleeing to Brazil in 2004 with the help of sympathizers, Battisti was arrested in Rio de Janeiro in 2007 and transferred to the Brasilia jail.
The burgeoning row will be the first diplomatic challenge facing Lula's successor, Dilma Rousseff, who assumes the presidency Saturday.
A former Marxist militant who joined Lula's Workers Party, Rousseff was imprisoned for two years and endured torture in the early 1970s for fighting Brazil's then military dictatorship.