Brazilian President Luiz Inacio Lula da Silva said during a visit to Italy on Monday that the global financial crisis underscored the need for a "new world order" that puts people first.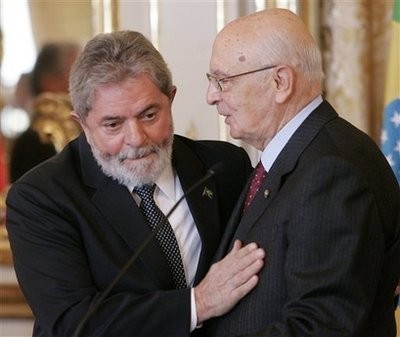 Brazil's President Luiz Inacio Lula da Silva, (L) talks to Italian President Giorgio Napolitano during their meeting at the Quirinale, Presidential palace, in Rome, on Nov. 10, 2008.
"The current financial crisis is an extraordinary opportunity for us to reflect on our mistakes," he said, urging "a new world order in which the human being... and cultural, scientific and technological production are the real motor of the economy, not financial speculation."
World leaders "should pay less attention to market analysts and more to experts on social and development issues," Lula said after meeting with his Italian counterpart Giorgio Napolitano, a former communist.
Lula is also to meet Prime Minister Silvio Berlusconi on Tuesday and Pope Benedict XVI on Thursday.
The Brazilian leader hosted an international G20 meeting of finance ministers and central bank chiefs in Sao Paulo at the weekend that called for a greater role for emerging nations in the IMF and World Bank as part of a major shake-up of global institutions.
The International Monetary Fund and the World Bank should end the system under which their leadership is always divided between the United States and Europe, it said, adding that a reformed IMF could play an important role in a new world order.
The G20 includes the G8 as well as key emerging economies such as Brazil, India, China, Indonesia, Turkey and others.