A 17-year-old Egyptian girl has died of the H5N1 bird flu virus, the 12th Egyptian to die of the virus, according to Reuters, quoting from the state news agency MENA on Monday.
MENA identified the girl as Nouri Nadi from Fayyoum province south of the Egyptian capital.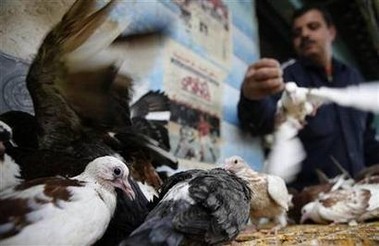 A vendor selects a pigeon for slaughter at his shop in Cairo
An official for the World Health Organisation in Egypt, which normally can confirm bird flu cases, said he had not been informed by Egypt's Health Ministry of a confirmed new death from bird flu.
Meanwhile, Britain is facing poultry bans from Japan to Jersey after it finished slaughtering about 160,000 turkeys in the hope of containing its worst bird flu outbreak.
An agriculture ministry spokeswoman told AFP that Russia, Japan, Hong Kong, South Korea, South Africa and Jersey have all imposed bans on the import of British poultry, while the Ukrainian agriculture ministry has also reportedly instituted a temporary ban.
The bans came as Britain completed the mass slaughter late Monday evening, and the government continued its investigation into how the virus was transferred to domestic turkeys.
Bernard Matthews, Europe's biggest turkey producer and the firm running the farm, is now set to clean and disinfect its farm at its own cost, the agriculture ministry said.
The cull had begun on Saturday after the H5N1 strain of bird flu that has killed at least 160 people -- most of them in southeast Asia -- since late 2003, was confirmed at the farm in Holton, eastern England.
The British outbreak has prompted several European countries, including France, Ireland, the Netherlands, Norway and Sweden, to take precautionary methods to prevent the spread of the virus.
Japan, which has suffered from its own bird flu outbreaks, said it has suspended imports of British poultry in the wake of the outbreak.
Russia said from Tuesday it would suspend imports of poultry feed and raw poultry but continue to import products that have been fried, roasted or heated in any way that kills off the virus.
Ukraine on Monday also suspended all British poultry imports, the Ukrainian agriculture ministry's veterinarian services said as quoted by the Interfax news agency.
A British agriculture ministry spokeswoman said, however, that Ukraine had not informed Britain that it was banning the import of British poultry. She added that Hong Kong, South Korea, South Africa and Jersey had banned the import of British poultry.
France also said it was stepping up checks and safety measures, with government ministers set to meet on Tuesday to put together a plan of action.
Meanwhile in Britain, ministers were playing down the risk of the outbreak to humans.
"The risk to the public is judged by health experts to be negligible," David Miliband, the environment secretary, told the House of Commons, while Health Secretary Patricia Hewitt said authorities were preparing "very, very seriously" for the "remote" possibility of a pandemic.
Scientists say that H5N1 could mutate into a form easily transmissible between humans, sparking a pandemic which could kill millions.
World Health Organisation spokesman Gregory Hartl has stressed that a European country such as Britain could just as easily be the source of a mutation triggering a human pandemic as Asia or Africa.
Questions have also been raised about whether the farm took swift enough action after the first deaths of birds.
The first deaths were reported on the farm in unexplained circumstances last Tuesday, but the matter was not reported to veterinarians until Thursday, when more than 1,000 other turkeys had perished.
But the European Commission, which monitors animal hygiene measures throughout the 27-nation European Union, voiced confidence in Britain's handling of the latest outbreak.
"We think the measures are in place and are working well," commission spokesman Michael Mann told journalists in Brussels.
Workers at the farm, many of whom are migrants from Portugal, and those involved in the slaughter have been given anti-viral drugs as a precaution.
A three-kilometre (1.8-mile) protection zone and 10-kilometre surveillance zone have been put in place, along with a 2,090 square kilometre restriction zone, while bird shows and pigeon racing have been banned.
The gassed poultry carcasses were being taken in sealed lorries to a plant around 200 miles (320 kilometres) away in Staffordshire, northwest England, which incinerates them after removing micro-organisms from them.