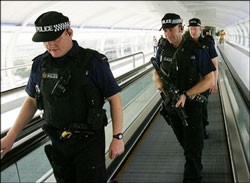 Armed police officers patrol Manchester Airport (AFP Photo)
British police have said they had foiled a plot to blow up planes to the United States in mid-air, putting the nation on its maximum terror alert and snarling air traffic around the world.
Police said the plot, which involved hiding explosive devices in passenger hand baggage, was "an attempt to commit mass murder on an unimaginable scale" and that they had arrested 21 people.
Deputy Commissioner Paul Stephenson, of London's Metropolitan Police, told reporters that police were confident the anti-terror operation had disrupted a bid to cause "untold death and destruction".
Home Secretary John Reid said the plot was "very significant" and designed to "bring down a number of aircraft through mid-flight explosions, causing a considerable loss of life."
He said police believed it was "a major threat to the UK and international partners."
Prime Minister Tony Blair's office said the anti-terror operation had been undertaken "with the full support" of the premier, currently on holiday in the Caribbean.
His officials said he had briefed US President George W. Bush.
The US Department of Homeland Security said it had raised the threat level for commercial flights from Britain to the United States to the highest state, "Severe, or red."
The threat level was raised to "High, or orange" for all other air traffic in and to the United States.
The security clampdown caused havoc at airports and forced many British and foreign airlines to cancel flights, stranding tens of thousands of passengers.
In Britain, airport security was tightened as the alert level was raised to "critical" from "severe," where it had been since security was relaxed in the weeks after the London transport bombings of July 2005 which killed 56 people.
"Critical" means that a plot is highly likely.
Reid said the police anti-terror operation would mean "major disruption" at all airports throughout the United Kingdom, but added: "As far as is possible we want people to go about their business as normal."
British Airways cancelled all its short-haul inbound and outbound flights from London's Heathrow Airport to destinations at home and across Europe until 4:00 pm (1400 GMT) Thursday.
Airports operator BAA requested the suspension of all flights due to take off for Heathrow from points worldwide.
Security was ordered to be tightened at British airports, where departing passengers were not allowed hand baggage except articles placed in transparent bags.
There were also restrictions on fluids. Those traveling with an infant were required for example to taste the contents of bottles of baby milk.
Long and chaotic lines formed at the nation's airports, including Heathrow and Stansted outside London, as well as Manchester airport in northern England.
"It's chaotic," the BBC's Fiona Bruce reported from Heathrow as she was preparing to travel on vacation. "It's absolutely packed inside, you can hardly move."
She added that nobody was in the check-in area at all.
The plan was uncovered after a joint operation by the Metropolitan Police's anti-terrorist branch and the security services that lasted several months, the Metropolitan Police said earlier.
Reid said the alert level was raised to "critical," its highest level, at 2:00 am (0100 GMT) Thursday by the Joint Terrorism Analysis Centre.
"This is now being publicly announced as I promised to parliament last month," he said. "This is a precautionary measure. We are doing everything possible to disrupt any further terrorist activity."
Last year, four suicide bombers killed a total of 56 people in coordinated attacks on three London Underground trains and a bus, the worst terror attack on British soil.
Reid had said Wednesday that Britain faces "the most sustained period of severe threat since the end of World War II."
He said that while the security services would deliver 100 percent effort and dedication, they could not guarantee a 100 percent success rate in fighting terrorism.
Rohan Gunaratna of the Singapore-based Institute of Defence and Strategic Studies, said the Al-Qaeda network was the only group capable of planning such an attack, and that the plot bore its hallmarks.
Source: AFP