LONDON, June 19, 2011 (AFP) - Britain is not planning any financial help for Greece beyond its contributions through the IMF, a Treasury minister said Sunday, as eurozone nations discuss the stricken southern European economy.
"The stability and success of the eurozone is very important to the British economy, it's our most important trading partner and problems there have a big effect on us," Danny Alexander, chief secretary to the Treasury, told Sky News.
"So we have a strong interest in seeing these issues resolved. But the package for Greece that is already in place is a eurozone package with the IMF (International Monetary Fund).
"Obviously we as the UK have a stake in the IMF. It's the eurozone that is taking forward discussions now about the next stage of dealing with Greece's substantial problems.
"There's simply no proposition on the table for the UK to contribute beyond that IMF involvement and I don't expect there to be one."
Greece's partners in the eurozone meet later Sunday and are expected to grant the latest payouts from a 110-billion-euro ($156 billion) EU-IMF loan package agreed last year, before shaping a second bailout to appease nervous markets.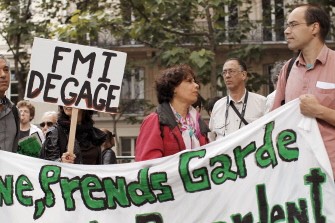 AFP - People, including Spain's and Portugal's nationals demonstrate on June 19, 2011 in Paris, in support of Spain's anti-crisis protesters. Placard (background) reads: "IMF get lost"
Britain is not part of the eurozone but it offered a bilateral loan to its neighbour and eurozone-member Ireland when it was bailed out last year.