LONDON, March 21, 2011 (AFP) - British Foreign Secretary William Hague refused Monday to rule out targeting Moamer Kadhafi in air strikes against Libya, saying it depended on "circumstances at the time".
He was speaking after Defence Secretary Liam Fox said the Libyan leader may be a legitimate target of international military action, which began Saturday to enforce a UN-imposed ceasefire and no-fly zone to protect civilians.
"The targeting that we do on these kind of strikes will always be in accordance with the UN resolution and that of course emphasises the protection of the civilian population," Hague told BBC radio.
"I'm not going to get drawn into the details of what or who might be targeted."
Asked whether Britain had the authority to kill Kadhafi if he continues to attack his own people, Hague replied: "I'm not going to speculate on the targets... that depends on the circumstances at the time."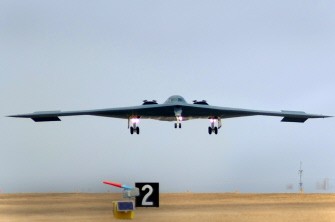 In this image released by the US Air Force March 20, 2011 shows one of three stealthy B-2 Spirit bombers returns to Whiteman Air Force Base, in Missouri from its mission March 20 in support of enforcing the Operation Odyssey Dawn no-fly zone over Libya. AFP
On Sunday, Fox was asked whether Kadhafi was a legitimate target.
"Well, that would potentially be a possibility but you mention immediately one of the problems we would have, which is that you would have to take into account any civilian casualties that might result from that," he told the BBC.
In response to Fox's comments, US Defence Secretary Robert Gates said it would be "unwise" to have coalition forces try to kill Kadhafi.
"I think that it's important that we operate within the mandate of the UN Security Council resolution," he told reporters on a flight to Russia.
He said the military intervention was backed by "a very diverse coalition" and warned: "If we start adding additional objectives then I think we create a problem in that respect."