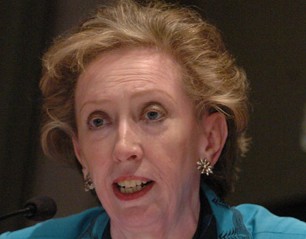 Foreign Secretary Margaret Beckett
Any decision about workers from Bulgaria and Romania migrating to Britain after they join the EU next year needs to be "workable and effective", Foreign Secretary Margaret Beckett said Monday.
"There's a great deal of discussion but we have actually not made any decisions yet," the minister told a news conference after talks here with European Union enlargement commissioner Olli Rehn.
"What we should be wanting to do is to look very carefully at what is being considered.
"We all understand that there are issues and there are concerns about our labour market. What we all want to be clear is that anything that is proposed is workable and effective."
London is keeping tight-lipped about its policy towards the EU newcomers when they join the 25-member bloc on January 1.
Foreign Office minister Baroness Patricia Scotland told the House of Lords, Britain's unelected upper chamber, that the approach would be "gradual" and that details would be unveiled "very shortly".
A department official later confirmed that details would be revealed in a written parliamentary statement Tuesday.
Like Beckett, Scotland refused to comment on media reports that Britain would impose a temporary bar on unskilled workers from the two former communist states.
Other reports suggsted Britain would announce time-limited controls on the right to work of citizens from both countries, taking a limited number of unskilled people for low-level jobs but offering no general right to work.
When Poland and seven other eastern European states joined the EU in May 2004, Britain was one of only three countries to allow unrestricted access.
Prime Minister Tony Blair's administration predicted that up to 13,000 people from eastern Europe would come to Britain -- but so far up to 600,000 have arrived.
For his part, Rehn said the decision was one for the British government but told reporters that London's policy towards the May 2004 new joiners had benefited the EU as a whole.
Rehn welcomed the reforms made by Sofia and Bucharest and expressed hope that Turkey, which also has EU ambitions, would do the same, particularly over trade wranglings with Cyprus.