LONDON, March 10, 2009 (AFP) - British finance minister Alistair Darling echoed a US call for coordinated action to tackle the credit crunch Tuesday after eurozone countries rebuffed it ahead of an EU finance ministers' meeting.
Darling said governments "must be prepared to do more", adding: "In these extraordinary times it is essential that governments act together" in an article for the Guardian newspaper.
His comments, ahead of an EU finance ministers meeting Tuesday, again highlight differences between world powers ahead of the G20 London summit on April 2, designed to coordinate the global response to the credit crunch.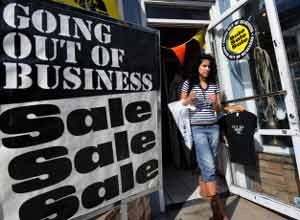 A female bargain-hunter leaves a shop that has a clearance sale before going out of business after trading for the past ten years in Los Angeles on March 9. Billionaire Warren Buffett said the US economy could recover in five years. (Photo: AFP)
In an interview Monday, Larry Summers, President Barack Obama's top economic advisor, said that world leaders must focus on boosting world demand ahead of the G20.
There was a need for "extraordinary public action", he said, urging leaders to take coordinated steps to pump more money into the economy.
But after a eurozone finance ministers' meeting Monday, their chairman Jean-Claude Juncker of Luxembourg rejected the call for more pump-priming, saying the US calls "do not suit us".
German Finance Minister Peer Steinbrueck also said that no further measures were planned, adding: "We should concentrate on measures that have already been decided."
Darling, whose official title is chancellor of the exchequer, noted the international community had already taken concerted action.
But he added: "In the face of the sharpest and most synchronised global downturn for generations, governments must be prepared to do more.
"As Larry Summers, President Obama's economic adviser, said this week, the notion that the market demand will always self-correct is misguided.
"In these extraordinary times, it is essential that governments act together to reduce the impact of the downturn and support a sustainable recovery.
"Governments can, and must, act to make a real difference."
Darling also called for the G20 to agree a "substantial increase in the resources available to the IMF".
The EU is to call for the IMF's resources for struggling nations to be doubled to 500 billion dollars (396 billion euros) Tuesday, according to a draft document.