Britain on Wednesday urged against all but essential travel to Bangkok as the Thai capital braced itself for severe floods.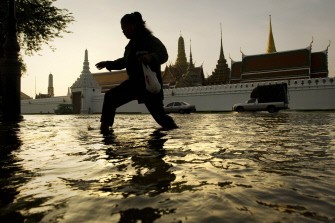 A woman walks through floodwaters in front of the Grand Palace near the Chao Praya river in Bangkok on October 27, 2011.
Britain's Foreign Office also warned against travel to the twenty-six provinces in Thailand currently affected by widespread flooding.
A huge runoff from the north equivalent to 480,000 Olympic swimming pools is expected to reach the capital at the same time as seasonal high tides, the UN's Office for the Coordination of Humanitarian Affairs said Wednesday.
Britain's foreign ministry advised nationals already in Bangkok to exercise caution and keep up to date with local developments.
The Thai government has ordered a five-day holiday from Thursday for 21 provinces including Bangkok, to allow the city's residents to prepare for the inundation or leave.