LONDON, Aug 15, 2011 (AFP) - British Prime Minister David Cameron was to announce Monday a wide-ranging review of government policies to reverse a "slow-motion moral collapse" that he blames for last week's riots.
His comments come as Britain struggles to find answers to its worst civil disorder for decades, which left five people dead and tarnished the country's image abroad just a year before London hosts the 2012 Olympic Games.
"This has been a wake-up call for our country. Social problems that have been festering for decades have exploded in our face," Cameron was to say in a speech in his affluent rural constituency in Witney, central England.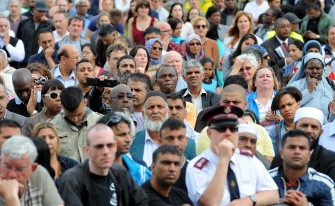 AFP - Community groups from across Birmingham stage a peace rally in Summerfield Park, Birmingham, Central England on August 14 , 2011, near where 21-year-old Haroon Jahan and brothers Shazad Ali, 30, and Abdul Musavir, 31, were killed last week during riots in the city
The Conservative premier has flooded the streets with police to prevent further unrest while more than 2,300 people have been arrested, but Cameron said that the "security fightback must be matched by a social fightback."
"Do we have the determination to confront the slow-motion moral collapse that has taken place in parts of our country these past few generations?" he asks, in excerpts from the speech released by Downing Street.
Children as young 11 joined the four-day frenzy of looting, arson and violence which spread from London to other major English cities including Manchester and Birmingham, leaving dozens of homes and businesses in flames.
Cameron was to announce that the coalition government -- which came to power in May 2010 promising austerity measures to cut a record deficit -- would in coming weeks review "every aspect of our work to mend our broken society."
In a taste of things to come, Work and Pensions Secretary Iain Duncan Smith said people convicted of being involved in the riots could lose their benefits even if they do not receive a custodial sentence.
One local council in London has already moved to evict the mother of a young man arrested on suspicion of involvement in the riots.
Labour opposition leader Ed Miliband was reportedly to accuse Cameron of "knee-jerk gimmicks" in a rival speech on Monday, and to challenge the prime minister's claim that there was no link between riots and poverty.
Cameron is already under fire from police chiefs who oppose his decision to hire US "supercop" Bill Bratton to advise the government on tackling street gangs, saying they want home-grown policies instead.
Bratton, who is credited for tackling gang violence in New York, Los Angeles and Boston, at the weekend listed a raft of measures including understanding how gangs work and using injunctions to curb their activities.
Top police officers and the opposition have also called on the government to reverse its plans to slash police budgets, saying the riots show to maintain police numbers.
Interior minister Theresa May was chairing a meeting of the government's COBRA security committee on Monday at which it is expected to decide whether to scale down the surge of officers on London's streets, currently at 16,000.
Courts in England have been working through the night and, in a first, on Sunday to clear the massive backlog of cases from the riots.
Three people were due to appear in court later Monday over the murder of three men who were hit by a car while defending their neighbourhood against looters in Birmingham, Britain's second city.
More than 5,000 people observed a minute's silence at a peace rally for the victims in Birmingham on Sunday, police said.
Tariq Jahan -- who is the father of one of the victims and emerged as a heroic figure with his calls for peace after his death -- told the gathering that the display of unity gave him "strength in my heart".
A 16-year-old boy was also arrested on Sunday on suspicion of the murder of a 68-year-old man who was attacked as he tried to put out a fire in the West London borough of Ealing.