LONDON (AFP) – Britain's ruling Labour Party saw their election campaign thrown into disarray Thursday as Gordon Brown's criticism of an elderly widow as "bigoted" threatened to overshadow a crucial TV debate.
Opponents and the press poured scorn on the prime minister for the embarrassing gaffe, which came Wednesday when he was questioned by 66-year-old Gillian Duffy just days ahead of the May 6 polls.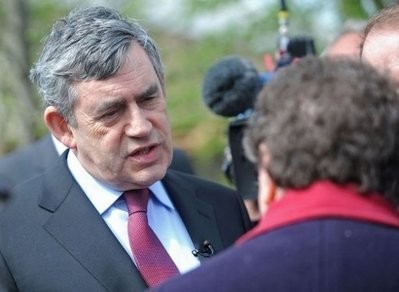 British Prime Minister Gordon Brown (L) speaks with Gillian Duffy during a campaign visit to Rochdale, north-west England. (AFP photo)
Brown -- caught out insulting the elderly woman by a television microphone which he had left clipped to his jacket -- apologised in person to lifelong Labour supporter Duffy and described himself as a "penitent sinner."
But his contrition did little to calm the storm.
"This was the authentic Gordon Brown -- thin-skinned, paranoid and perpetually on the hunt for someone else to blame," blasted the rightwing Sun newspaper Thursday.
Even the Labour-supporting Guardian conceded it was "the political catastrophe of the 2010 campaign."
Finance spokesman for the opposition Conservatives, George Osborne, said earlier the comments "spoke for themselves."
"What people will see is the contrast between what he was saying publicly and what he was saying privately," he added.
Labour scrambled to win back lost ground, with Brown's allies rallying round and the prime minister's wife speaking out in support.
"His apology was from the heart," Sarah Brown told the Daily Mirror newspaper.
The prime minister also emailed members of his party apologising for the mistake.
Brown's Labour is currently third in most opinion polls, behind the opposition Conservative and Liberal Democrat parties.
But the parties are close and most pollsters predict Britain is heading for a hung parliament, in which no one party has an overall majority.
The Labour leader made the gaffe as he was meeting voters in Rochdale, northwest England. He encountered Duffy, who peppered him with questions about immigration, the national debt and tax in front of television cameras.
Immediately afterwards, Brown got into his car and was driven away but was still wearing a microphone, allowing broadcasters to pick up his subsequent discussion with an aide.
"That was a disaster," Brown said. "Should never have put me with that woman -- whose idea was that?" He added: "She was just a sort of bigoted woman."
Duffy said Brown's comments were "very upsetting".
"I'm very disappointed... He's an educated person, why is he coming out with words like that?"
Brown later went to Duffy's modest terraced house to apologise personally, after first saying sorry on the radio and by telephone.
"I've just been talking to Gillian, I'm mortified by what's happened," he said on the doorstep of her house after spending 40 minutes there. "I'm a penitent sinner."
Despite the fierce Labour fightback following Brown's gaffe, the media storm seemed certain to overshadow the third and final leaders TV debate later Thursday.
Brown clashes with Conservative leader David Cameron and head of the Liberal Democrats, Nick Clegg, in a debate focused on the economy.
The debates have been a focal point of the British election battle and Clegg's strong performances have been credited with giving his party a poll boost which has pushed it ahead of Labour.
Commentators thought the final debate could favour Brown, however, meaning the timing of his gaffe could not have been worse.
The prime minister has been keen to play up his record as Britain's finance minister --- a job he did for a decade before becoming premier -- and in steering the country through the global financial crisis.
"The blunder has further obscured Mr Brown?s attempts to focus voters? attention on the economy," noted the Financial Times.
Thursday's "third and final television debate offers his last big chance to turn the election around," added the paper.