Paul and Rachel Chandler said they were "happy to be alive" after the Somali pirates who hijacked the British couple's yacht near the Seychelles last year released them for a ransom.
The retired couple appeared in good health and smiled as they briefly spoke to journalists during a stopover in Mogadishu, on their way to Nairobi from the town of Adado where their 388-day ordeal came to an end earlier Sunday.
"We are feeling very happy to be alive and happy to be here... among decent everyday people," Rachel Chandler said, adding they were "desperate to see family and friends" and thanking the Somalis who worked for their release.
British Prime Minister David Cameron in a statement welcomed the pair's release as "tremendous news", thanked all those who contributed to their freedom and promised to swiftly reunite the couple with their family.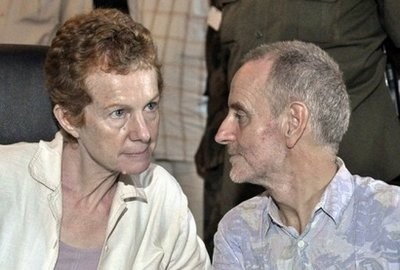 British couple Rachel and Paul Chandler are seen at the Presidential palace in Mogadishu after their release by Somali pirates following more than a year in captivity.
Instead of flying directly from Adado to the safety of Nairobi, where they landed in the evening, the pair left the country of their ordeal from war-torn Mogadishu, one of the world's most dangerous cities.
After being greeted by officials at Somalia's presidential palace, which has been routinely attacked by Al Qaeda-inspired insurgents in recent months, Rachel Chandler climbed back onto the plane wearing a red cap and fresh clothes.
Her husband Paul followed her after taking pictures on the tarmac.
They eventually landed at a military base in Nairobi, avoiding media attention, and were expected to be debriefed and undergo medical treatment at the British high commission in Kenya.
In Adado they were given breakfast and a chance to make phone calls and shower, hosted in the compound of Mohamed Aden "Tiiceey", the president of the local self-styled administration of Himan and Heeb.
He contributed to the Chandlers' release, together with Abdi Mohamed Helmi "Hangul", a Somali surgeon who had already managed to see the pair in January.
"They look in relatively good health but they need to be checked," Hangul told AFP from Adado.
Rachel Chandler explained there how they communicated with their captors using a Somali-English phrasebook.
The couple had been driven overnight from the town of Amara, where they spent most of their captivity.
Somalia's newly appointed prime minister, Mohamed Abdullahi Mohamed, said after greeting the Chandlers that the government, much in need of credibility, "exerted every humanly possible effort" to free them.
A deal was struck with the pirates this week and, according to Somali elders and sources close to the tortuous negotiations, a total of at least 750,000 dollars was paid in ransom.
The Chandlers' plight generated considerable interest in Britain and became one of the most high-profile hostage cases in Somalia's recent, troubled history but the British government has a strict policy of not paying any ransoms.
The money known to have been paid -- a much smaller amount than what pirates have been earning from ship owners for cargo, fishing and other vessels -- is believed to have been gathered by family and members of the Somali diaspora.
The pirates had initially demanded seven million dollars.
The Chandlers' family in England issued a statement saying "it would be irresponsible to discuss any aspect of the release process as this could encourage others to capture private individuals" for ransom.
The Chandlers were kidnapped on October 23 last year, a day after leaving the Seychelles for Tanzania.
Abdi Yare, a senior pirate commander, expressed surprise that such a vulnerable boat "would have dared to venture out" at the peak of the piracy season, when he spoke to AFP shortly after the hijacking last year.
Somali sea-jackers prowling the region's busy trade routes capture dozens of vessels each year to seek ransoms from large ship owners, but cases involving small yachts are rare.