A long-awaited public inquiry into Britain's role in the Iraq war opens Tuesday, with former civil servants first to appear in hearings set to climax with Tony Blair taking the stand.
One-time top officials from the foreign and defence ministries will outline Britain's policy towards Baghdad in the early 2000s as a five-member committee begins investigating what lessons can be learned from the US-led war.
Inquiry chairman John Chilcot, a former civil servant, said he was confident of producing a "full and insightful" account of the decision-making that led Britain to join the 2003 invasion against strong opposition at home and abroad.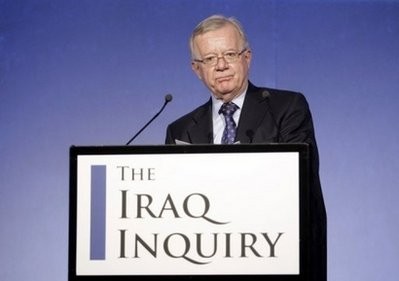 File photo of John Chilcot, the Chairman of the Iraq Inquiry, outlining the terms of reference for the inquiry.
An appearance by former prime minister Blair, who took Britain into the conflict, is likely to be the highlight of the inquiry, although he and other Labour government figures are not due to give evidence until next year.
Chilcot has said that nobody is on trial in the inquiry, held at a conference centre near parliament in central London, but has also vowed not to shy away from any criticism if the findings warrant it.
He and his fellow committee members have already met with families of some of the 179 British troops who died during the six-year conflict, who raised issues about whether they were properly equipped and trained.
The inquiry will also be looking into the justification for the war, principally the claim that Iraqi leader Saddam Hussein had weapons of mass destruction. These weapons were never found.
In addition, anti-war campaigners -- who will protest outside the inquiry Tuesday -- want a ruling on the legality of the conflict, which was carried out without explicit approval by the United Nations Security Council.
The first few weeks are intended to establish "a reliable account" of the main features of British involvement in Iraq between 2001 and 2009, when the war ended with the withdrawal of all but a handful of British troops in July.
Among the first witnesses to be called Tuesday is Peter Ricketts, who chaired the government's top intelligence committee between 2000 and 2001 before taking a senior post at the Foreign Office (FCO) in 2001-03.
William Patey, head of the FCO's Middle East Department in 1999-02; Simon Webb, head of operational policy at the Ministry of Defence in 1999-2001 and MoD policy advisor in 2001-04; and Michael Wood, FCO legal advisor in 1999-06, will also give evidence.
There have already been two official probes into elements surrounding the run-up to the invasion, but ministers had refused to hold a full inquiry until after the military deployment had ended.