LONDON, Aug 11, 2011 (AFP) - Britain's parliament was to meet Thursday for a special session to discuss the worst riots in a generation as Prime Minister David Cameron pledged a fightback and authorised the use of water cannon.
Bolstered police forces on Wednesday maintained calm in the worst-hit cities while courts remained open through the night to deal with hundreds of suspected rioters and looters.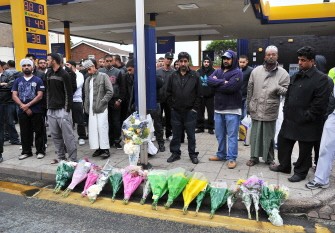 AFP - Residents stand by flowers laid at the crime scene where Haroon Jahan and two other Asian men were hit by a car and killed in the early hours Wednesday in Birmingham, central England, on August 10, 2011
Police rounded up a group of around 150 men in the south London region of Eltham while an uneasy peace prevailed in Birmingham where three Asian men were hit and killed by a car while defending their community from looters on Tuesday.
"We needed a fightback and a fightback is underway," Cameron told a news conference outside 10 Downing Street after meeting top security officials following a fourth night of lawlessness and arson.
Cameron said he would "not allow a culture of fear to exist on our streets" and credited the government's decision to boost police numbers in London to 16,000 overnight as having helped stem the tide of violence.
"We now have in place contingency plans for water cannon to be available at 24 hours' notice," the Conservative premier said, adding that police had already been authorised to use plastic bullets against rioters.
Water cannon have previously been used in the troubled province of Northern Ireland to tackle sectarian tensions but have never been deployed on mainland Britain.
Apart from attending the extraordinary parliamentary session, Cameron will also Thursday take part in a second emergency security committee meeting.
Cameron's tough new line came after he flew back from holiday in Tuscany on Tuesday to take charge of the biggest challenge to the Conservative-led coalition government since it came to power in May last year.
Police have arrested more than 1,100 people across the country since the riots erupted on Saturday in the north London district of Tottenham after police shot dead a man two days earlier.
Three courts in London were to stay open all night Wednesday to deal with riot cases. Police in Manchester in northwest England said two protesters were jailed on Wednesday, one for 16 weeks and one for 10.
Manchester and towns in the industrial English Midlands bore the brunt of Tuesday night's violence.
In Birmingham, Britain's second biggest city, police said they had arrested a man on suspicion of murder after an incident in which a car was driven into a group of people and three Asian Muslim men were killed.
Witnesses said the victims were protecting local shops from rioters.
"They lost their lives for other people, doing the job of the police," witness Mohammed Shakiel said.
Tariq Jahan, whose 21-year-old son Haroon Jahan was one of those killed, appealed to locals not to take revenge and called for the law to be allowed to take its course.
"Why are we doing this? I lost my son. Step forward if you want to lose your sons. Otherwise, calm down and go home," Mr Jahan told the BBC.
The deaths take the toll from the riots so far to four after a man was found with a gunshot wound to the head in a car in south London.
In Manchester, masked gangs set fire to a girls' fashion store and smashed the glass entrance of the Arndale Centre, the city's main shopping mall, allowing hundreds of youths to run off with armfuls of clothes and shoes.
Elsewhere 200 rioters pelted police with missiles in the Toxteth area of the northwest city of Liverpool, which was rocked by huge riots in 1981.
Hooded rioters also set fire to buildings in West Bromwich and Wolverhampton in central England and a police station in nearby Nottingham was firebombed. There was also trouble in the western English town of Gloucester.
Meanwhile Libya on Wednesday joined international outcasts Iran and Zimbabwe in voicing scathing criticism of the British government over the riots, with the regime of strongman Moamer Kadhafi saying Cameron had "lost all legitimacy."