The leaders of Britain's three main political parties will take part in a series of televised debates before next year's general election, broadcasters and politicians said Monday.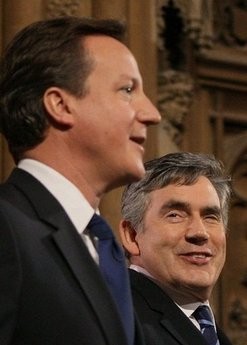 Prime Minister Gordon Brown(R) with Conservative Party Leader David Cameron in November 2009.
Prime Minister Gordon Brown of the Labour Party will go head-to-head with David Cameron, leader of the main opposition Conservatives, plus Nick Clegg of the Liberal Democrats in three debates.
Such events are common in other countries, including the United States, but it will be a first for Britain, although Brown debates with Cameron and Clegg weekly in the House of Commons during Prime Minister's Questions.
Brown said the debates were needed to tackle differences on key issues such as funding for the National Health Service (NHS).
"The country needs to debate whether we lock in the recovery or whether we choke it off; whether we protect the NHS, schools and police or whether we put them at risk to pay for tax cuts for the wealthy few," he said.
Cameron said the move showed Britain had "joined the 21st century" and was a "step forward for our democracy".
"I think that's a thoroughly good thing," he said. "I think it will help enliven our democracy, I think it will help answer peoples' questions."
The debates will take place during the general election campaign. The poll itself must be held by June 2010, although Brown can call the exact date which observers say is likely to come in May.
The move was announced by broadcasters BBC, ITV and Sky which will each screen one of the peak-time debates in shows lasting up to 90 minutes.