British Prime Minister Gordon Brown called Monday for the radical reform of world institutions to help meet the new challenges of the 21st century, and take more account of the rise of Asia.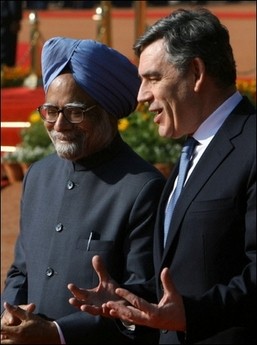 British Prime Minister Gordon Brown (R) and Indian Prime Minister Manmohan Singh speak during an official reception ceremony at the Presidential Palace in New Delhi, January 21
On a two-day visit to New Delhi, Brown told business leaders the changes should be inspired by the post-war "visionaries" who set up the United Nations and other bodies such as the International Monetary Fund and World Bank.

But he said the "new world order" should be more representative of what he called "the biggest shift in the balance of economic power in the world in two centuries" -- the Asian economic boom of countries like India.

"Only with international institutions that promote cooperation out of shared interest and predictability and accountability can large numbers of states consistently work together for the benefit of all," he said.

"But to succeed now, the post-war rules of the game and the post-war international institutions -- fit for the Cold War and a world of just 50 states -- must be radically reformed to fit our world of globalization; 200 states, an emerging single market place, unprecedented individual autonomy and the increasing power of informal networks."

He added: "We can and must do more to make our global institutions more representative. I support changes to the IMF, World Bank and the G-8 that reflect the rise of India and Asia."

The keynote speech was billed by his office as an outline of one of Brown's main foreign policy priorities, and an attempt to secure Indian backing for his plan due to its growing clout on the world stage.

Britain already supports moves to make India a permanent member of the UN Security Council -- a reflection of its status as an emerging economic powerhouse increasingly courted by world leaders.

Chief among his proposals was making the World Bank "an environmental bank" to tackle climate change and more proactive work by the IMF to spot and intervene in financial crises like that affecting Britain's Northern Rock bank.

And he also called for a new standby civilian force to go into failed states under the auspices of the UN to work in tandem with international peacekeepers.

Brown arrived in India from China on Sunday. Both countries are among the world's fastest growing economies and like many European countries, Britain is keen to court them to boost lucrative trade ties and other links.

He indicated Sunday that Britain -- the former colonial power in India until 1947 -- was no longer the dominant partner. Instead he said the relationship was now "a partnership of equals" striving for common goals.

After his speech, Brown and his wife Sarah were given an official state welcome at the Raj-era presidential palace.

Brown went on to pay his respects and throw petals at the memorial to Mohatma Gandhi -- revered as the father of the independent state -- and was awarded an honorary doctorate from the University of Delhi.

At the university, he launched a five-million-pound (10-million-dollar) UK-India sport initiative to bring on the sporting stars of tomorrow. The scheme was part of London's successful bid for the 2012 Olympic Games.

On Sunday, he announced extra funding for education and health projects in India to the tune of 825 million pounds over three years and urged stronger counter-terrorism links and trade ties.

Brown was to meet Indian Foreign Minister Pranab Mukherjee for talks later Monday and drop in on President Pratibha Pratil.

A news conference with Indian Prime Minister Manmohan Singh was set for the evening.