British Prime Minister David Cameron arrived in China on Tuesday on a bid to win trade deals to boost his country's fragile economy -- but differences over human rights issues could overshadow the trip.
Cameron, accompanied by 43 bosses from some of Britain's biggest companies plus four ministers, says he wants to take his country's relationship with the world's second-largest economy "to a new level" on the visit.
In a comment piece published in the Wall Street Journal, Cameron said he expected to see "new contracts worth billions of dollars" signed during his two days in Beijing, which come ahead of the Group of 20 summit in Seoul.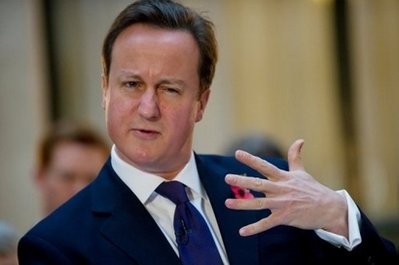 British Prime Minister David Cameron, pictured, launched a visit to China on Tuesday determined to win trade deals to boost his country's fragile economy -- but differences over human rights could overshadow the trip
But his efforts to build lucrative ties with Beijing on his first official visit face being eclipsed by increasing calls for him to issue a stern rebuke to Premier Wen Jiabao and President Hu Jintao on their human rights record.
Cameron is the first Western leader to visit China since jailed dissident Liu Xiaobo was awarded the Nobel Peace Prize on October 8 -- an honour hailed in the West but decried by Beijing as tantamount to "encouraging crime".
Liu, 54, was jailed in December for 11 years on subversion charges after co-authoring Charter 08, a bold petition calling for democratic reform in one-party China that has been widely circulated online and signed by thousands.
In the Wall Street Journal article, Cameron said he would raise difficult issues such as human rights "with respect and mutual understanding, acknowledging our different histories."
That may not be enough to silence increasing calls for a tougher line.
On the eve of Cameron's visit, Chinese artist Ai Weiwei, an outspoken critic of the Communist government, insisted that Western leaders on trade trips to China must publicly air rights issues.
Western leaders "must insist on human rights issues, that it is inadmissible for citizens to be imprisoned because they think differently," said Ai, who was placed under house arrest at the weekend but freed late Sunday.
Further heightening tensions, countries including Britain have said they will not heed a Chinese call for Western diplomats to steer clear of the Nobel Peace Prize award ceremony in December.
Cameron was instead keen to emphasise the potential gains for Britain going into the visit, which he said featured "one of the biggest and most high-powered British delegations ever to visit China."
"We aim to deliver more than 40 specific agreements across the whole range of our bilateral relationship, from trade to low-carbon growth, to cultural and education initiatives," he wrote in the Wall Street Journal.
Such deals would be concluded in a bid "to take Britain?s relationship with China to a new level and to achieve strong cooperation on our shared economic and political interests," he said.
Trade between Britain and China was worth 51.8 billion dollars last year and Cameron wants to double this by 2015.
Cameron's coalition government, which took power in May, is searching for new sources of economic growth after unveiling the deepest public sector spending cuts in decades last month in a bid to tackle a record deficit of 154.7 billion pounds (249.3 billion dollars).
Britain emerged from a recession linked to the world financial crisis at the end of last year. Its economy grew 0.8 percent in the third quarter, compared to 9.6 percent for China.
Cameron is due to hold talks and have an official banquet with Wen on Tuesday. He will meet with Hu and attend a business summit on Wednesday.
Ahead of the trip, British officials announced a string of Sino-British deals.
The biggest of these was a 45-million-pound five-year agreement for British companies to export breeding pigs to China.
China sealed trade deals with France worth 20 billion dollars during a three-day state visit by Hu hosted by President Nicolas Sarkozy last week.