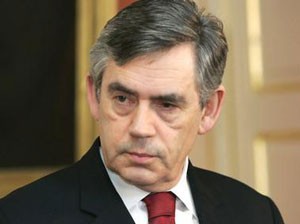 British Prime Minister Gordon Brown
LONDON, May 31, 2009 (AFP) - British Prime Minister Gordon Brown insisted Sunday he would not quit despite a rumbling scandal over MPs expenses and dire poll ratings for his ruling Labour Party ahead of European and local elections.
He said the expenses furore was "appalling" and "offends everything that I believe in" as well as promising that every lawmaker would be forced to account for all their expenses from the last four years.
A total of 13 lawmakers from Labour and the main opposition Conservatives have said they will stand down since the scandal broke over three weeks ago. The Daily Telegraph newspaper has been publishing leaked documents detailing hundreds of claims from the public purse for everything from moat cleaning to a duck island.
On Sunday, the Telegraph published an ICM poll suggesting Labour would come third in the European elections, in which Britons vote Thursday, with just 17 percent, behind the second opposition centrist Liberal Democrats.
Even more damagingly, it suggested Labour would also come third in a general election with just 22 percent of the vote -- the worst Labour has done in an opinion poll since 1987.
But Brown dismissed suggestions he could step down to make way for a more popular leader in an interview with BBC television.
"Things go up and down," he said. "We're going through the most difficult economic circumstances the country has faced.
"People are angry rightly because they are worried when they see taxpayers' money wasted on their MPs and they're finding it very difficult for them in a difficult economic situation."
Brown added: "I did not come into politics to allow a situation to develop where MPs ran away with money they did not deserve".
He also said he wanted to introduce a "constitutional renewal" bill and was looking at reforms including the case for a written constitution, votes at 16 and reform of the unelected upper chamber the House of Lords.
Brown said he does "not accept the case for an unelected House of Lords", adding he was "always open" to arguments for reforming of the voting system.
Turnout at European elections in Britain is usually low -- in the last polls in 2004, it was just 38 percent, due in part to strong Eurosceptic sentiment among many. This time, fringe parties like the anti-EU UK Independence Party and the far-right British National Party are expected to benefit.
An Economist magazine/YouGov poll last week found that only 31 percent of Britons think its membership of the European Union is a good thing, compared to 37 percent who think it is bad.