LONDON, Aug 14, 2011 (AFP) - British Prime Minister David Cameron pledged a "zero tolerance" crackdown on reckless thugs as two suspects were set to appear in court Sunday over the deaths of three men in the riots.
Cameron called the riots a turning point in British history as police, politicians and the public thrashed out how to respond to the adrift, lawless underclass that rocked England last week in an unprecedented wave of violence.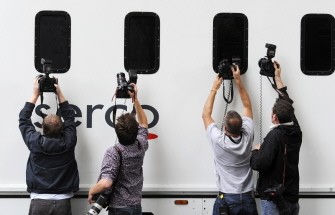 AFP - Press photographers take pictures of a prison van leaving City of Westminster Magistrates court in London, on August 13, 2011. Courts are continuing to process hundreds of looters and rioters that have been arrested since the recent disturbances.
The frenzy of looting, rioting and arson is "going to change things, definitely," Cameron said, describing it as "a huge event in the life of the nation."
"We haven't talked the language of zero tolerance enough, but the message is getting through," Cameron told The Sunday Telegraph newspaper.
"If you leave the broken window, the shop gets looted again."
Cameron said some people were over-complicating explanations for simple criminality.
"The complicated bit is why are there so many, why is there this sizeable minority of people who are prepared to do this?
"It might be 100,000 deeply broken and troubled families... costing hundreds of millions of pounds for the country, they are completely dysfunctional, they need help and we are going to get in there and actually try and turn this around."
Work and Pensions Secretary Iain Duncan Smith, who is heading a taskforce on gangs, said he wants gang members subjected to an official campaign of harrassment to make their lives "hell", with daily police visits and dusk-to-dawn curfews.
"In these communities are problem people who are going to destroy the position of London long before we get to the Olympics" in July 2012, he told The Sunday Times newspaper.
Hovever, senior British police figures are in no mood for lectures from ministers, apparently bristling at a perceived lack of political support.
Britain's top officer said there had been "inconsistency" over how tough the police were expected to be, following allegations of heavy-handedness in the G20 protests in 2009.
"The views we are hearing now are slightly different to those," said Scotland Yard Acting Commissioner Tim Godwin.
More than 2,140 people have now been arrested, of whom around 1,000 have been charged.
Godwin said he expected around 3,000 people to face the courts over the riots.
"The scale and spread of the violence was and criminal behaviour was far greater than anyone could have imagined," he said.
He said commanders would decide on Monday whether to scale down the surge of officers on London's streets, currently at 16,000.
Cameron has hired former New York police chief Bill Bratton to give advice on tackling gang culture.
But Hugh Orde, the head of the police chiefs body, said a home-grown policing model would suit Britain best.
"I am not sure I want to learn about gangs from an area of America that has 400 of them," he told The Independent on Sunday newspaper.
"It seems to me, if you've got 400 gangs, then you're not being very effective.
"If you look at the style of policing in the States, and their levels of violence, they are fundamentally different from here," he added.
England has had four quieter days following the wave of violence which struck London, Birmingham, Manchester, Liverpool, Nottingham and several other cities.
So-called "shop a looter" campaigns, featuring websites and video screens showing people's faces, have proved successful in snaring suspects.
Courts have been working through the night to process cases.
The unrest cost five lives and the first two people to be charged over the deaths were due to face court on Sunday.
Joshua Donald, 26, and a 17-year-old male who cannot be named were to appear at Birmingham Magistrates' Court charged with the murder of three men hit by a car while defending their neighbourhood against looters in Britain's second city.
Hundreds were expected to take part Sunday in a peace rally in Birmingham in response to the deaths.
In a phonecall with Cameron, US President Barack Obama commended the "steadiness" shown by politicians and the police in their handling of the riots, Downing Street said.
Ministers and police chiefs are not the only ones setting down their opinions on the riots.
A ComRes poll of 2,008 adults for The Independent on Sunday and Sunday Mirror newspapers found that 50 percent thought that austerity cuts had helped fuel the rioters.
Seventy percent thought planned police budget cuts should be reversed immediately.
Some 48 percent thought the government had not handled the response to the crisis well.
Clear majorities favoured the use of curfews, rubber bullets, water cannon and tear gas to deal with rioters.
An Angus Reid poll in the Sunday Express newspaper found that 72 percent supported the reintroduction of compulsory national service for 18-year-olds, while 70 percent backed stopping welfare handouts for the parents of rioters.