LONDON (AFP) – Prime Minister Gordon Brown promised Sunday to introduce legislation to "transform" the policing of Britain's financial sector when his government sets out its political programme this week.
Brown said a Financial Services Bill would offer tough new powers to regulators to tear up bankers' contracts if they include excessive pay and bonus deals which might threaten the stability of the financial system.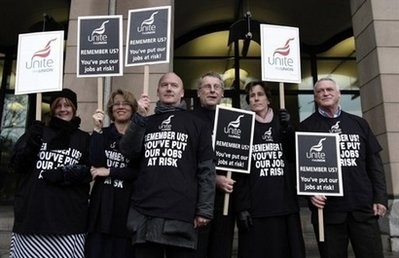 (File) Finance workers protest against bank bosses in central London earlier this year. (AFP photo)
Some observers blame the bonus culture of the world's two pre-eminent financial sectors -- the City of London and Wall Street -- for encouraging excessive risk-taking, which helped to tip the global economy into chaos.
Speaking in a podcast on the Downing Street website ahead of Wednesday's policy-setting Queen's Speech in parliament, Brown said Britain had a "bright future" ahead after the economic turmoil of the past year.
He insisted that despite being one of the few major European economies still in recession, Britain had fared well in terms of jobs and repossessions compared with the last slump in the early 1990s.
The main opposition Conservatives have promised to introduce belt-tightening measures if they defeat Brown's Labour Party in next year's general election, but Brown said he "optimistic" about the coming period.
He said he believed it could be "one not of austerity but progress".
Finance minister Alistair Darling said the Financial Services Authority, the financial sector watchdog, would be given new powers to stop bankers collecting excessive bonuses or to cancel pay packages which rewarded undue risk-taking.
Legislation to be unveiled on Wednesday will also enable the FSA to require banks to renegotiate remuneration packages which breach its pay code, and fine those which continue to offer unjustifiable sums.
Brown said: "We will ensure that the banking crisis we have experienced over the last two years should never again come at a cost to the taxpayer.
"This means a transformation of the way the financial sector is policed, with banks themselves and not the taxpayer made to pay for bank failings."
Darling told the Sunday Telegraph newspaper that bankers must start seeing themselves as "fellow citizens" and said some of the bonuses they had received were viewed by the public as "ludicrous".
The new rules will come into effect next year if the Bill completes its passage through parliament before the election -- which must be held by June 3.
The rules would affect all new contracts and would apply to all British banks, including RBS, Lloyds, Barclays and HSBC as well as the British operations of global investment banks like Goldman Sachs.