British police hunted at least one more suspect Monday after arresting five people in a fast-moving probe into three failed car bombings amid fears a new Al-Qaeda-style attack is imminent.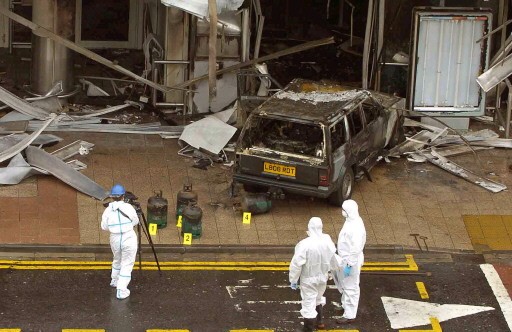 British forensics police officers remove gas cannisters (L) from the burnt wreckage of a vehicle use to ram a passenger terminal at Glasgow Airport in Scotland, July 1, 2007. (AFP Photo)
Britain has been put on maximum security alert after the failed attacks in London and Glasgow, which came days after a new government took office and ahead of the anniversary of July 7, 2005 suicide bombings in London.
Newspapers said at least one of the five held is believed to be a doctor. Those detained include two men who rammed a blazing car into the main Glasgown airport terminal on Saturday.
The Daily Telegraph said police were now looking for at least one person suspected to be linked to an Al-Qaeda cell intending to launch attacks in Britain. The Guardian said at least three suspects were still at large.
Police said they found strong links between the discovery of two cars laden with gas canisters and nails in London's entertainment district on Friday and the Jeep used in the Glasgow airport attack.
Two men inside the Jeep were arrested at the airport, although the driver suffered severe burns after being engulfed in flames and is in a critical condition in a Scottish hospital.
Hours later anti-terror officers arrested a 26-year-old man and a 27-year-old woman on a motorway in northwest England. They are now being questioned in London.
The man is an Iranian doctor who works at North Staffordshire Hospital in Stoke-on-Trent, according to The Sun newspaper.
London's Metropolitan Police, which takes the lead in anti-terrorism operations, refused to comment on this or on BBC reports that all those arrested were from the Middle East.
The fifth suspect, a 26-year-old man, was arrested at Liverpool's Lime Street Station on Saturday night.
Prime Minister Gordon Brown, who succeeded Tony Blair last Wednesday, indicated Sunday that Al-Qaeda-linked militants may well be behind the latest attacks.
Officers searched homes in Glasgow, Liverpool, and the nearby town of Newcastle-under-Lyme, and also carried out a controlled explosion on a suspect car at a hospital where one of the Glasgow suspects was treated for burns.
Several British newspapers published gruesome photos of one of the supected Glasgow attackers, writhing in pain on the ground outside the airport with severe burns.
The attacks prompted the government to raise the security alert level to "critical" for the first time since August, and about a week before the second anniversary of the July 2005 London bombings that left 52 commuters dead.
"Critical" is the highest on a five-level scale, and means another attack could be imminent.
The British terror alert also triggered alarm abroad.
The United States beefed up security at airports following the attempted attacks in Britain, while Homeland Security Secretary Michael Chertoff said Sunday that extra US air marshals were being deployed on flights to Britain.
He said the US administration took seriously threats of terrorism emanating from Europe, including Britain.