A British police team arrived in Pakistan on Friday to help probe the killing of Benazir Bhutto after President Pervez Musharraf admitted he was not happy with his country's handling of the investigation.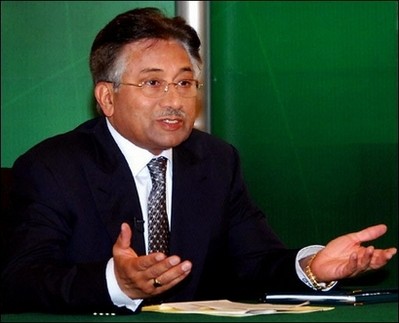 Pakistani President Pervez Musharraf addresses reporters in Islamabad, 03 January 2008 (Photo: AFP)
The detectives from an elite anti-terrorism team at Scotland Yard flew in amid raging controversy over the assassination of the opposition leader, which sparked a wave of bloody unrest and forced the postponement of elections.

"The team from Scotland Yard has arrived and they left the airport in a private vehicle," a senior official at Islamabad airport, which is in the neighboring city of Rawalpindi, told AFP.

Around six suited men believed to be the British team were ushered out of the terminal and into a white minibus, before shutting the curtains of the vehicle and speeding off without talking to reporters.

Interior ministry spokesman Brigadier Javed Cheema said earlier the Yard team was flying in "to help Pakistani investigators with their probe into the assassination of Benazir Bhutto."

For the first time since Bhutto was killed in a gun and suicide bomb attack that his government blames on Al-Qaeda, Musharraf acknowledged reports the crime scene had been quickly hosed down after her murder, possibly destroying evidence.

He said on Thursday that he hoped his decision to invite foreign help would help dispel "conspiracy theories" about Bhutto's death at an election rally on December 27.

Her Pakistan People's Party (PPP) has ridiculed the government account of her death, which said the shooter had missed her and that she died fracturing her skull by smashing her head against her car's sunroof.

Many Bhutto supporters have blamed the president for her death -- at the very least for failing to provide sufficient security after she only narrowly survived Pakistan's worst terror attack in October, which left scores dead.

But Musharraf denied he or the Pakistani establishment were involved in the killing, and rejected suggestions the country's powerful intelligence agencies had mounted a cover-up.

"I am sure that they did not do it with an intention of hiding some secrets or that the intelligence agencies instructed them to hide secrets," he said, when asked to explain the swift clearing of the site after Bhutto's death.

He reacted angrily when asked if the Yard team would be allowed to question key politicians and an intelligence chief Bhutto had accused of involvement in the October 18 attack on her homecoming parade in Karachi.

Musharraf indicated that the team would not be given permission.

The arrival of the Yard team, described by British Foreign Minister David Miliband as "technical experts," has been greeted with skepticism by the Pakistani media.

"There is no doubt that the Yard can do nothing to help. In fact, one wonders if any power on earth can assist Pakistan in escaping the quagmire of difficulties it finds itself in," said an editorial in The News.

"It is yet unclear how much assistance the world's premier criminal investigative agency can offer in this regard," added the English-language daily.

Musharraf is struggling to keep a lid on a wave of deadly unrest sparked by Bhutto's death as the country prepares for general elections which have now been delayed by nearly six weeks to February 18.

The PPP, the country's largest party, has alleged the delay is an attempt to give Musharraf's allies time to fix the result. He denied that the polls would be tainted.

Pakistan's opposition parties have meanwhile demanded better security for the lengthy election campaign.