LONDON, Aug 16, 2011 (AFP) - The riots in Britain threaten fresh trouble for the country's fragile economy should consumer sentiment be affected by last week's looting that left many small independent shops destroyed, analysts said.
The most severe rioting occurred in London and with less than a year to go before the city hosts the Olympics, some experts are warning that Britain's tourism industry and ability to attract new foreign investment could suffer.

The Association of British Insurers estimates that the four nights of rioting -- which also hit major cities Birmingham, Manchester and Liverpool -- will cost the industry more than £200 million ($328 million, 227 million euros).
The figure is similar to the cost of three weeks of rioting in France during 2005, when thousands of cars were set alight. In Britain, the principal target was shops.
According to the Centre for Retail Research (CRR), 400 independent stores were smashed or looted, including 30 which were razed to the ground by flames.
Its findings exclude a sizeable amount of well-known large stores, notably sports and electronics retailers, whose premises were also ransacked.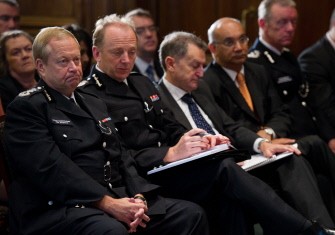 AFP - Acting Deputy Commissioner Tim Godwin (L) and Chief Constable Sir Hugh Orde (2nd L) listen as Home Secretary Theresa May delivering a speech on the need for police reform at the Institute of Civil Engineers in London on August 16, 2011
Another research body, the Local Data Company, said a total of 28 centrally-located shopping districts were hit by the riots and estimated that 10 percent of shops were "directly or indirectly" affected by the violence.
Many stores, it claims, were forced to shut for business because of the unrest.
The government has provided £20 million in emergency funds and urged banks to provide exceptional credit facilities to help affected shops.
Royal Bank of Scotland has said it will provide six-month interest and fee-free loans of up to £25,000 to its small business customers hit by the violence.
But all the measures may not be enough to help the most vulnerable.
"In the affected areas, one shop in ten might have to close, and it could be more than that," said CRR director Joshua Bramfield.
"It is one more factor that will affect consumers' confidence, when people are already worried about the eurozone crisis or the war in Libya. It adds to a global feeling of uncertainty and anguish," he told AFP.
Chris Scicluna, deputy head of economic research at Daiwa Capital Markets Europe, agreed that the rioting risked harming the wider British economy.
"It is clear that the widespread social disorder occurring across London and other UK cities will directly hit domestic demand, and add a further blow to economic sentiment, which already looks shaky against the backdrop of recent market events."
Scicluna said the risks to British gross domestic product (GDP) growth over the second half of 2011 were now biased even more heavily to the downside.
"And to the extent that we had anyway foreseen weak GDP growth of just 0.8 percent this year, that means that at best we are looking at continued anaemic economic growth, if not a slide back into recession," he added.
As the rioting wound down, the Bank of England last week forecast that the British economy would grow less than expected this year amid concerns over the eurozone debt crisis, markets turmoil and government austerity measures.
Barclays Capital analyst Simon Hayes argued that Britain's social unrest would have "no significant impact" on headline GDP data.
But what about the impact on the country's tourism industry and ability to attract foreign investment? One of the most shocking images beamed worldwide was of a Sony warehouse in London engulfed by flames.
A recent poll of London businesses found that 83 percent of respondents agreed that the capital's reputation as a place to do business had been damaged.
Meanwhile the head of the British Chambers of Commerce, David Frost, said Britain's image "has suffered a significant blow... with knock-on impacts for our retail and tourism industries, as well as international investment in our cities and towns."
He added in a statement: "We now need to show the world that Britain remains a secure and strong destination for investment and business growth."