LONDON, Aug 10, 2011 (AFP) - Britain's worst riots in a generation spread to more cities Wednesday with three people killed while reportedly defending their community, though London was quiet after extra police swamped the streets.
As the nation endured a fourth night of unrest, youths rampaged through the centre of Manchester burning and looting shops in what police called the most extreme violence to hit Britain's third largest city in 30 years.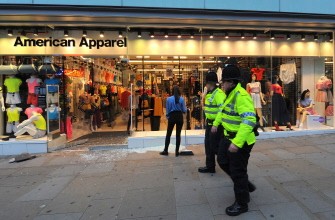 AFP - The clean-up process begins in Manchester City Centre, in north-west England, on August 10, 2011, following a fourth night of violence in Britain.
Looters also caused mayhem in several cities in the industrial Midlands, including Birmingham, where three Asian men died after being hit by a car. Reports said they had just left a mosque and were protecting their neighbourhood.
But in London there was no repeat of the wave of violence which left parts of the capital in flames on Monday night, as vigilante mobs took to the streets to defend their communities and 16,000 police made a show of force.
Police have arrested more than 1,100 people across the country for violence, disorder and looting since the riots erupted on Saturday in the north London district of Tottenham after police shot dead a man.
Rattled Prime Minister David Cameron vowed on Tuesday to do "everything necessary to restore order to the streets" but shops in many parts of London had closed early and put down their shutters on the advice of the police.
London Mayor Boris Johnson, a Conservative like Cameron, on Wednesday urged the government to reconsider plans to cut police numbers as part of tough austerity measures aimed at reducing Britain's budget deficit.
The government has blamed "opportunistic" criminals for the unrest, but the opposition says cuts to social services and the failure to deal with underlying social problems has contributed to the riots.
Some of Britain's most deprived areas erupted late Tuesday, with 200 rioters pelting police with missiles in Toxteth area of the northwest city of Liverpool, which was rocked by huge riots in 1981.
Elsewhere, hooded rioters set fire to buildings in West Bromwich and Wolverhampton in central England and a police station in nearby Nottingham was firebombed. There was also trouble in the western English town of Gloucester.
The focus of Tuesday's violence was Manchester where police were driven back by gangs of hundreds of youths who covered their faces with scarves and ski masks.
Gangs set fire to a girls' fashion store and smashed the glass entrance of the Arndale shopping centre, central Manchester's main shopping mall, allowing hundreds of youths to run off with armfuls of clothes and shoes.
Assistant Chief Constable Garry Shewan of Greater Manchester Police, who joined the force after moving to the city in 1981, called the scenes "senseless violence and senseless criminality on a scale I have never witnessed before."
In Birmingham, Britain's second biggest city, police said they had arrested a man and launched a murder inquiry after the incident in which the three Asian men died.
The BBC reported that the men who died had just come out of a mosque and were protecting their neighbourhood. Around 200 people from Birmingham's Asian community gathered outside the hospital where they were taken.
Despite the unrest, police and cricket officials announced that the Test match between England and India, due to take place at the nearby Edgbaston ground, would go ahead as planned on Wednesday.
The only other fatality of the riots so far was a man found with a gunshot wound to the head in a car in the south London suburb of Croydon.
In London, hundreds of Sikhs camped out overnight to defend the community of Southall in the capital's west. The group, some dressed in traditional clothing, organised motorcycle patrols and monitored the train station for troublemakers.
Similar mobs of football supporters congregated in Eltham, south London, and Enfield, north London, in an effort to deter looters.
In a development which will do nothing to calm tensions, Britain's police watchdog said it found no evidence that Mark Duggan -- the man whose shooting last week was the catalyst for the riots -- had fired a gun at officers.
Duggan's family said they were "completely gutted" by the findings.
The violence has raised questions about security ahead of the 2012 London Olympic Games, and it prompted the cancellation of Wednesday's friendly between England and the Netherlands at Wembley Stadium.