SOFIA, Oct 30, 2011 (AFP) - Bulgarians vote Sunday in the second-round run-off of presidential and local elections, largely tipped by analysts to tighten the grip of the ruling right-wing GERB party onto power.
GERB's presidential candidate, former construction minister Rosen Plevneliev, holds a commanding lead of 40.1 percent after the first-round vote last Sunday. He faces Socialist Ivaylo Kalfin, who garnered 29.0 percent.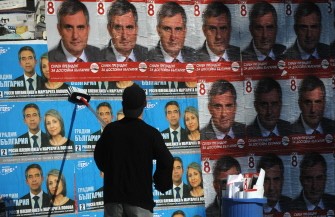 AFP - A worker posts election posters of Ivailo Kalfin(R), presidential candidate of the opposition Bulgarian Socialist Party, next to posters of Rosen Plevneliev ,presidential candidate of Bulgaria's centre-right ruling GERB party in Sofia on October 28, 2011.
The battle will be hard-fought, however, as the Socialists scramble to keep hold of the job, following the two successive five-year terms of incumbent Georgy Parvanov who cannot stand again.
Bulgaria's president is elected in a direct ballot for a five-year term in office but has a largely ceremonial role, apart from being the commander-in-chief of the armed forces.
The top job is however particularly coveted by GERB as it would give the right-wing party full control of power.
GERB already has a near-majority in parliament, while its minority cabinet is also safely buttressed by a handful of independent lawmakers.
Riding on the huge personal popularity of Prime Minister Boyko Borisov, the party is also expected to win most mayoral seats in the parallel local run-offs Sunday.
It already took the capital Sofia and three other big cities on the first-round and is sending 18 more of its big-city candidates for mayors to run-offs.
GERB had also won the most city-council seats in 20 out of the 27 regional centres last Sunday.
Massive election fraud and vote-buying allegations had however marred its victory.
The more complicated two-in-one elections together with new voting rules had caused administrative chaos in polling stations last Sunday.
Many of the 6.9 million eligible voters could not cast a ballot because of voting list discrepancies and huge lines outside stations.
A record number of between 6 and 10 percent of the ballots was also declared invalid, raising eyebrows by anti-corruption watchdog Transparency International and prompting numerous objections.
The release of official results by the central electoral commission was also delayed well after the 48-hour deadline.
Polling stations are due to open at 6:00 am (0400 GMT) and close at 7:00 pm (1700 GMT), with the first exit poll results expected to be released shortly after polls close.