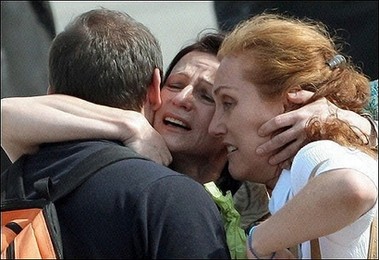 Bulgarian nurse Valentina Siropulo(C) hugs her relatives shortly after arriving at Sofia airport. (AFP Photo)
Bulgaria may write off the $54 million debt Libya owes it, Prime Minister Sergey Stanishev said Wednesday.
He said the move must not be seen as the Bulgarian government's response to Libya's decision to release five Bulgarian nurses and a Palestinian doctor, now a Bulgarian national.
"It must not be regarded as payment to the Libyan authorities for the release of our citizens or as recognition of their guilt. It is, rather, an act of humanitarian aid," he said.
The medics, who were convicted and sentenced to death for infecting Libyan children with HIV, arrived in the Bulgarian capital Sofia Tuesday after being freed by Libya under a deal with the European Union on medical aid, trade and improved political ties.
Foreign experts, backed up by international scientific reports, testified in court that the infections began before the medics' arrival, and were caused by poor hygiene in the Benghazi hospital.
Libya's Supreme Court overturned the last possible appeal July 11, upholding the death sentences, but the Libyan High Judicial Council's ruling later in July commuted the foreign nationals' sentences to life imprisonment, and Libyan authorities suggested that deportation to Bulgaria was a possibility.
Bulgaria made an official request last Thursday for Tripoli to repatriate the medics to serve their sentences in Bulgaria. Bulgarian President Georgi Parvanov pardoned the medics immediately upon their arrival in the country.
Compensation totaling $1 million for each infected child has been paid to the 460 children's families. Fifty-six of the children have died. The cash was raised by an international fund financed mainly by the EU and the U.S.