Bulgarians go to the polls in a general election tipped to be won by the rightwing opposition but also result in a hung parliament and a political stalemate over the formation of the next government.
According to eve-of-ballot opinion polls published Saturday, the centre-right opposition GERB party of maverick Sofia mayor Boyko Borisov will win the vote with 28 to 34 percent support.
The ruling Socialists of youthful Prime Minister Sergey Stanishev are credited with 19 to 23 percent of the vote.
Both parties also stand no real chance of gaining a majority in the 240-seat parliament to form a stable government even with support from their two preferred partners.
The Blue Coalition of the small right-wing UDF and DSB parties, who already said they are ready to ally with GERB, will muster 8 to 9.5 percent, polls show.
Meanwhile, the Socialists' junior coalition partner in the current government, the liberal Turkish minority MRF party, will scoop 12 to 14 percent support.
Both GERB and the Socialists have rejected seeking support from the ultra-nationalist Ataka party, expected to win 9 to 12 percent of the ballot, and have so far ruled out joining hands in a right-left government.
Thus, one of three smaller parties -- the centrist NMSP of former king Simeon Saxe Coburg, the nationalist OLJ party, and the business formation Lider -- stands chances to play kingmaker in the next government, if they manage to pass the 4-percent threshold to enter parliament, analysts say.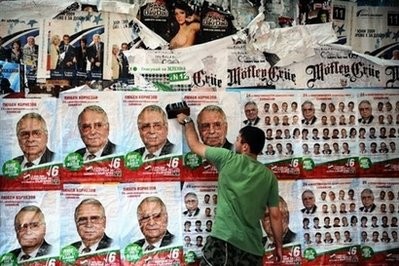 A man puts up election campaign posters supporting socialist candidate Luben Kornezov in downtown Sofia.
With coalition talks likely to take up the entire summer -- and possibly even necessitate repeat elections in the autumn -- observers are concerned about a political impasse at a time when the economic crisis is expected to reach its peak in Bulgaria.
A total of 6.8 million Bulgarians are eligible to elect 240 parliamentary deputies for a four-year mandate, choosing among over 4,500 candidates from 18 parties and coalitions.
For the first time voters will cast two separate ballots, the first for electing directly one deputy of each of the 31 constituencies and the second to fill the other 209 deputy seats, allotted on a proportional basis.
The expected turnout is about 60 percent.
Polling stations open at 6:00 am (0300 GMT) on Sunday and close at 7:00 pm (1600 GMT).
Numerous vote-buying allegations have already marred the electoral campaign, prompting the interior ministry to provide reinforced police presence in regions where the practice is suspected to occur.