A bull knocked top

Spanish bullfighter

Jose Pedro Prados, better known as "El Fundi", to the ground during a bullfight on Saturday, leaving him unconscious, public radio RNE reported.
The bull from the Victorino Martin breeder charged into the 42-year-old, causing him to fly into the air before slamming into the ground at the arena in the northern city of San Sebastian, RNE said.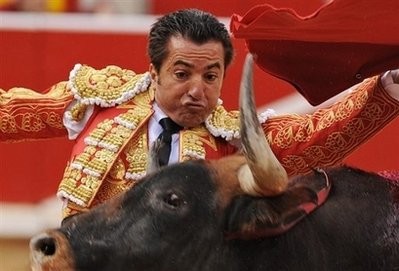 Spanish torero El Fundi gives a pass with his muleta to his Miura fighting bull in 2008.
The wounded matador, who has suffered other injuries in the ring in the past, was removed from the arena and taken to hospital. No further information regarding his condition was immediately available.
"El Fundi" made his debut in public in September 1981 at the age of 14. He is a top bill at bullfighting fiestas.
Bulls used in bullfights are at least four years old and can weigh between 480 and 600 kilos (1,060 to 1,320 pounds).