The Russian and US leaders put a brave face on their differences at valedictory talks on Saturday, with officials saying Iran and piracy were problems the two sides would continue working on.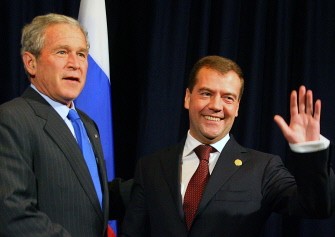 Russian President Dmitry Medvedev (R) and his US counterpart George W. Bush shake hands during a meeting in Lima on November 22, 2008, on the sidelines of the Asia-Pacific Economic Cooperation (APEC) Summit (AFP Photo)
President George W. Bush and Russian counterpart Dmitry Medvedev also took up the thorny subject of Georgia among other topics in a last summit on the sidelines of an Asia-Pacific summit in Peru.
The two agreed on the need to work together on Iran under US president-elect Barack Obama, White House spokeswoman Dana Perino said.
"They talked about the need for the two nations to continue to work together on Iran and that it is important for that cooperation to continue into the new administration," Perino said.
Russian Foreign Minister Sergei Lavrov said the two sides had discussed the economic crisis and "international security" and agreed to work in a "practical way" on problems of mutual concern such as piracy off Somalia's coast.
"Both presidents noted that differences remain in our relations but there was a unanimous wish, and President Bush said this, not to get hung up on such problems that always exist between great powers," Lavrov told reporters.
That tensions remained between Washington and an increasingly assertive Russia was clear from the guarded language used by Perino to describe the meeting.
They "had a cordial, but honest and direct exchange," said Perino, using the kind of diplomatic terms usually reserved for blunt talk.
A Kremlin aide was more upbeat, saying: "The conversation was very pithy and positive."
Rather than dwelling on differences, "they more discussed the need to move forward," the aide said.
Asked if Russia's leadership was at all nostalgic for the Bush years -- after Bush confessed to a touch of nostalgia earlier -- the aide replied in the negative, but said Bush would always be welcome in Russia.
"We didn't have a feeling of nostalgia. President Medvedev said that regardless of what President Bush does in future, if he wishes, we will greet him with pleasure in Russia."
Going into the meeting and after being greeted by a broadly smiling Medvedev, Bush defended his approach to both Medvedev and his predecessor Vladimir Putin, whom Bush famously praised in 2001, saying he had got a sense of the Russian leader's soul.
"I've tried to work hard to make it a cordial relationship... so that when we need to work together we can, and when we disagree were able to do so in a way that is respectful to our two nations," said the US president.
Medvedev was also conciliatory, saying: "Though we do have points of agreement and those points of real differences... we are prepared for continuous work and I view that, in general our work was successful."
The meeting between the two came as the Bush administration and the current Kremlin leadership remain far apart on issues ranging from how tough to get on Iran's nuclear program to missile defense in Europe and the enlargement of NATO.
Bush and Putin were in the Peruvian capital for a meeting of the Asia-Pacific Economic Cooperation (APEC) forum that was dominated by worldwide economic problems.
Medvedev was embarking on a tour of Latin America seen by analysts as a slight to the United States intended to show that while Washington has pushed hard for influence in former Soviet lands, Russia can put up its own challenge on the US doorstep.