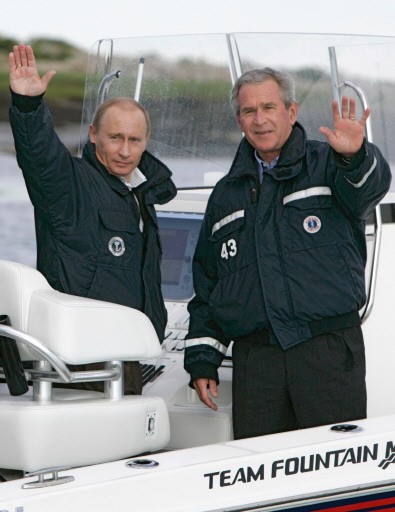 US President George W. Bush (R) and Russian President Vladimir Putin (L) in the Bush family boat in the Atlantic Ocean off the coast of Kennebunkport, Maine, July 1, 2007. (AFP Photo)
After a speedboat ride and a lobster meal, US President George W. Bush and Russian leader Vladimir Putin are to hold new talks Monday aimed at defusing tensions over missile defense and other irritants.
Differences between the two countries have sent U.S.-Russian relations to their lowest point since the Cold War. The meeting at the Bush family home in Kennebunkport, Maine, could be the last opportunity for both Vladimir Putin and George Bush to reverse the decline before their presidential terms expire next year.
The two leaders held two hours of informal discussion at the Bush family vacation home on the Maine coast that Russian Foreign Minister Sergei Lavrov described as "very friendly."
They went for a ride on a speed boat and had a lobster dinner before starting their talks.
The Russian leader described his relations with Bush as "friendly" ahead of the Kennebunkport talks, which aides expected to also address sharp differences over Kosovo and human rights.
"I hope that the dialogue with this person with whom I've formed good, I would say friendly relations, will take place in exactly that spirit," Putin was quoted by Interfax as saying before he left Moscow.
"Otherwise, I wouldn't be going and wouldn't have received the invitation."
Nevertheless, both sides warned not to expect any formal agreements out of the summit.
Bush has criticised the state of democracy in Russia, which, flush with cash from an energy boom, has become more forceful in its dealings with Europe and the United States.
Putin has condemned US efforts to dominate the world and has lashed out at US plans to station missile-defense batteries and radar systems in eastern Europe.
US officials hoped that during their time at Kennebunkport, the two leaders could regain the kind of personal relationship that six years ago led Bush to speak approvingly of gaining an insight into Putin's "soul."
For Russian part, Kremlin spokesman Dmitry Peskov brushed aside suggestions the two countries were sliding toward a new Cold War.
"Presidents facing a new Cold War don't invite each other to their fathers' houses," he argued.
The White House said efforts to curtail Iran's and North Korea's nuclear ambitions could also be on the agenda.