US President George W. Bush was to meet Saturday in Kuwait with his top political and military commanders in Iraq, a day after conceding that US troops "could easily" stay in Iraq for a decade.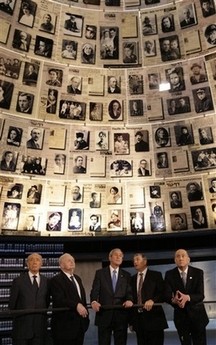 US President George W. Bush, center, looks up at the photographs in the Hall of Names during his visit to Yad Vashem Holocaust History Museum, Friday, Jan. 11, 2008 in Jerusalem. With Bush are from left to right, President Shimon Peres, Tommy Lapid, chairman of the Yad Vashem Council, Avner Shalev, Chairman of the Yad Vashem Directorate and Israeli Prime Minister Ehud Olmert.(AP Photo/Pablo Martinez Monsivais)
Bush, on the first leg of a four-nation Gulf tour, will be holding talks with General David Petraeus, the commander of US forces in Iraq, and with US ambassador to Baghdad Ryan Crocker at Camp Arifjan, a US military base in Kuwait.
He will also address US troops stationed in Kuwait and hold a meeting with Kuwaiti women activists on Saturday before leaving for Bahrain -- another key military ally and home of the US Navy's Fifth Fleet.
Around 15,000 US troops are stationed in Kuwait, which served as a springboard for the 2003 US-led invasion of Iraq and hosts Camp Arifjan, one of Washington's largest military bases in the region, and other camps.
Iraq has been hit by a new surge of violence since the start of the new year with more than 100 people killed in bombings, suicide attacks and shootings, half of them in Baghdad.
On Thursday the US military unleashed a massive air blitz on Al-Qaeda targets south of the Iraqi capital, in which 47,500 pounds (21,500 kilograms) of explosives were dropped on 47 targets within 10 minutes.
Bush told NBC television in an interview broadcast on Friday that US troops could have a long-term stay in Iraq.
Asked whether it might last 10 years, Bush said: "It could easily be that, absolutely."
Iraq is at the centre of Bush's preoccupations and a surprise visit by the US president to Kuwait's violence-wracked neighbour has not been ruled out.
Bush has been to Iraq three times since he ordered the invasion of the country in March 2003. His last visit took place on June 13, 2006 when he briefly spent time in the heavily defended "Green Zone" of central Baghdad.
The US president arrived on Friday in Kuwait, ahead of trips to Bahrain, the United Arab Emirates and Saudi Arabia, to rally the support of Sunni Arab allies against what he calls the "threat" posed by Shiite Iran.
Bush flew in aboard Air Force One after his first presidential trip to the Holy Land, where he said he believed a peace treaty would be signed within a year and called on Arab nations to reach out to the Jewish state.
His tour of the oil-rich Gulf region comes amid escalating tensions between the United States and Iran over a naval confrontation in the strategic Strait of Hormuz last Sunday.
Iranian speedboats approached US naval vessels in two previously undislosed incidents in the Strait of Hormuz in December, including one in which a US warship fired warning shots, a Pentagon official said Friday.
But several commentators in the region have voiced strong misgivings about Bush's intentions, amid fears Washington could resort to military action to halt Iran's disputed nuclear drive.
In Israel on Wednesday, Bush warned that Iran posed "a threat to world peace" and should not be allowed to develop the know-how to build a nuclear weapon. Iran denies seeking nuclear arms.
Although Kuwait is welcoming Bush as a friend, officials have said the emirate will not allow the United States to use its territory as a launchpad for any strike against Iran.
"Mr President, the region needs smart initiatives not smart bombs," the Kuwaiti newspaper Al-Rai said in a front-page editorial.
The chairman of the US Joint Chiefs of Staff, Admiral Michael Mullen, meanwhile warned Iran over the Strait of Hormuz incident.
"Please do not misread restraint for lack of resolve," Mullen said in Washington, adding that US warships are always ready to defend themselves.
Tehran has accused Washington of using the incident in the waterway -- a vital conduit for energy supplies -- as a propaganda stunt to paint Iran in a bad light during Bush's regional trip.
On Friday night, Kuwaiti ruler Sheikh Sabah al-Ahmad al-Sabah hosted a banquet for Bush after a round of talks that focused on Middle East developments and bilateral ties.